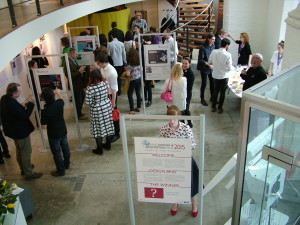 On Friday evening, the Floris team trooped down to The Creative Exchange in Leith to host the award ceremony for the second annual Kelpies Design & Illustration Prize. The bright and airy exhibition space was the perfect backdrop for the twelve shortlisted designs – the various interpretations of the design brief were really brought to life in the grand surroundings. This year, entrants were tasked with designing a new cover for Allan Campbell McLean's classic Cold War spy novel The Hill of the Red Fox.
The excitement was palpable as Design and Production Manager Leah McDowell took to the stage (or in this case, the stairs) for the moment everyone had been waiting for: the announcement of the winners. This year, there were three prizes: the overall Winner and one Highly Commended runner-up chosen by the Floris judging panel; and a second runner-up chosen by public vote, the People's Choice award..
We are very pleased to announce that the winner of the Kelpies Design & Illustration Prize 2015 is Lewis Copland, a Communication Design student at Gray's School of Art in Aberdeen. The judges were impressed by Lewis' consideration of the full expanse of his design, with careful attention paid to each and every one of his features. His bold typography and dynamic composition created a strong and attractive cover design which the judges felt would appeal to the target audience.
The Highly Commended prize went to Brad Newman, a Canadian designer working in Aberdeen, who unfortunately couldn't be at the award ceremony. The People's Choice award went to Edinburgh College Student Anna Elez Rodrigo.
The twelve shortlisted designs will remain on display the The Creative Exchange until 30th April (Monday-Friday, 10am-5pm). If you think you have what it takes to be on next year's shortlist, please keep checking our website, where details of next year's Kelpies Design & Illustration Prize will be announced.