Can a bottle of wine really taste better on one day rather than the next just due to the movement of the moon? When does wine really taste best?
The theory of tasting wine according to Maria Thun's Original Biodynamic Sowing and Planting Calendar is not new to wine buyers and critics. For some years wine buyers at  Tesco and Marks & Spencer have only held tasting for wine critics on days, when according to the calendar, the wines were are their best. And between them these supermarkets sell a third of the wine drunk in the UK, so they are probably onto something — something it's time the rest of us found out about.
And now it is even simpler to do just that.  You can now, quickly and easily, find out which are the best days to drink wine, according to the calendar, by using the handy free iPhone/iPad app When Wine Tastes Best.
To see whether today is a good for drinking wine just click on today's date. Your glass will either be full (indicating it is a good day) or empty (indicating a bad day). You can have good and bad periods within a single day. Whirl the curser around the see your glass change.
You can also view by week to help you plan ahead or a select a date in the future to check your prospects for the best wine drinking that day  – perhaps a birthday, special occasion or dinner party. To see future dates just use the in app purchase to get the data for the rest of the year for only £1.99.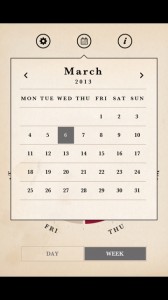 If apps aren't your thing you can still get all the same information from When Wine Tastes Best 2013, the only biodynamic calendar specifically designed for wine-drinkers.
For more information on the theory of biodynamic wine visit our author page for biodynamic pioneer Maria Thun.