Spend some time by a stream in the summer and you'll be amazed by how much entertainment can be found there on a warm sunny day! Kids will happily spend hours exploring, playing and discovering wildlife. Read on for some top tips for a summer by the stream, from Spring and Summer Activities Come Rain or Shine.
Protecting the Stream
Use these three simple rules to ensure you don't spoil the living conditions of stream animals:
1. Put the animals back into the stream right after you have examined them, otherwise they could die from a lack of oxygen.
2. It is best to put any creatures you catch back in the same place as you found them.
3. Leave the stream in the same state as you found it. Take everything you brought back home with you, including any catchers, jars or litter.
Exploring the Stream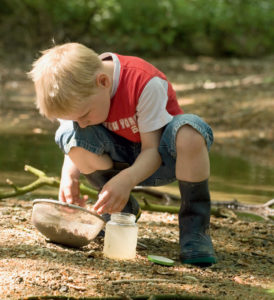 It is best to explore a stream in summer when the weather is warmer as, during this time, there are more types of creature living in and around the water. You can use an old kitchen sieve or similar to catch animals for a closer look!
There are many parts of the stream to investigate. Some of the small creatures such as mayflies live at the bottom of the stream. Hold your catcher in the water near the bottom and let the current fill it with creatures.
Others hide under flat stones. If you lift these up and hold your catcher right behind them the current will carry any small creatures straight into it. Some animals are stuck to the bottom of stones or to the bed of the stream, but you can remove them very carefully with the soft end of a paintbrush.
Once you have filled your catcher, go back to the bank of the stream, turn your catcher inside out and empty the creatures you have caught into a bowl or jar of water. With a magnifying glass you can see tiny details of the small creatures you have caught. A wildlife book with pictures will help you find out what they are.
Building Boats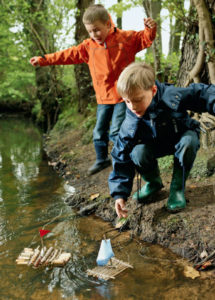 There are lots of different ways to make boats out of items you will probably find lying around in the house or garden. Sardine tins, walnut shells, twigs and paper all work well. Why not make some different types of boats and have a race?
Find out how to make four different boats by downloading our free pdf. (Extracted from Spring and Summer Activities Come Rain or Shine)
For more summer holiday activity ideas, including a balloon boat, click here.
Do you have any top tips for fun things to do by a stream? Comment below or find us on Twitter and Facebook.
Save
Save
Save
Save
Save