We are absolutely delighted to announce that Kelpies author Janis Mackay was named as one of the winners at the Scottish Children's Book Awards 2013 today, during a special ceremony at Glasgow's Mitchell Library attended by 800 young people from all over Scotland. Janis won the Younger Readers (8-11 years) category with her Kelpies novel The Accidental Time Traveller.
The Awards are run by Scottish Book Trust and voted for by schoolchildren all across Scotland. Record numbers of children took part in this year's awards, with over 38,000 votes cast – an increase of 20% on last year – and over 1,500 Scottish schools registering to take part. Floris Books made history earlier in the year by being the first publisher to publish all three shortlisted books in one category at the Awards. Also shortlisted in the Younger Readers category were Really Weird Removals.com by bestselling author Daniela Sacerdoti, and Black Tide by Caroline Clough.
Packed full of time travel trouble, The Accidental Time Traveller was in fact inspired by some real Edinburgh history. In the book, Saul has to help Agatha Black back to where she belongs – 1812! Janis based the character of Agatha on a young Scottish girl, Marjory Fleming, whose old diaries she discovered in the National Library of Scotland. Marjory lived in the Edinburgh Book Festival's very own home, Charlotte Square, during 1810-11 and kept a charming record of her life there.
Speaking at the ceremony, Janis said: "I am totally over the moon and stars, and it is a great confirmation to keep doing what I love doing." We are thrilled for Janis and incredibly proud of all three of our shortlisted authors. A hearty congratulations Janis, and well done Daniela and Caroline!
About The Accidental Time Traveller, Winner of the Scottish Children's Book Awards 2013 Younger Readers Category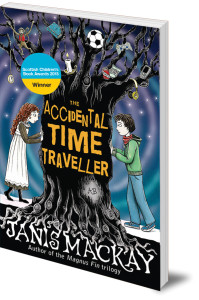 One ordinary day, Saul is on his way to the corner shop when a girl appears suddenly in the middle of the road. She doesn't understand traffic, or the things in shops, and she's wearing a long dress with ruffled sleeves. Her name is Agatha Black.
Agatha Black is from 1812, and Saul needs to find a way to get her back there. With help from his mates Will and Robbie, can Saul work out how to make time travel happen?
Meet the Author
Janis Mackay was born and grew up in Edinburgh, but moved to London to study journalism. She has an MA in Creative Writing and has held writer-in-residence posts in both Caithness and Sutherland. She currently lives in Edinburgh, where she teaches creative writing and works as a writer and storyteller. She is also the author of the Magnus Fin series.