After piles of entries, six months of reading, three shortlisted authors and one glamourous awards ceremony, we are finally able to announce the winner of the Kelpies Prize 2013.
A hearty congratulations to Alex McCall and his cracking tale of fowl play, Attack of the Giant Robot Chickens!
Joined by Barbara Henderson and Shona McQuilken, shortlisted for Never Back and The Great Moon Mission, all three of our shortlisted authors were treated to a reading of their work by former Kelpies Prize winner Janis Mackay at the Edinburgh International Book Festival award ceremony. Then they waited nervously while best-selling children's author Vivian French cracked open the prize envelope. Each story was praised for strong characters and original storytelling, but in the end it was Alex's humour, sense of adventure and eggstraordinary plot that proved a firm favourite with the judges.
Brought up in Aberdeen, where Attack of the Giant Robot Chickens is set, Alex is currently studying Filmmaking and Screenwriting at the University of the West of Scotland. He has published several poetry and short story anthologies. Attack of the Giant Robot Chickens, his first children's book, will be published in our Kelpies range in Spring 2014.
Well done Alex, and congratulations to Barbara and Shona on being shortlisted!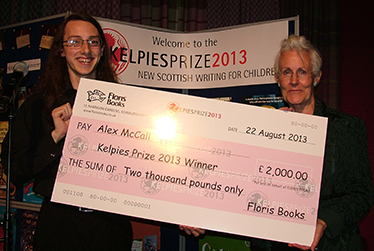 Kelpies Prize 2013 Winner: Attack of the Giant Robot Chickens, by Alex McCall
Why did the chicken cross the road? To start the giant robot chicken apocalypse, of course.
There's something fowl going on in Aberdeen. The town is being terrorised by giant robotic chickens determined to peck out the last sign of human resistance. It's been eight months since the chickens stole everyone over 15 and left the remaining children to band together into factions.
Now Jesse and his friends are determined not to let the chickens rule the roost any longer so they set about hatching a plan to stop the feathered fiends. But what eggsactly do the chickens want and how will the gang stop them?
Want to enter next year's Prize?
Manuscripts are now invited for submission to the Kelpies Prize 2014. The deadline is 28 February 2014 and for full rules and guidelines, you can read more here.