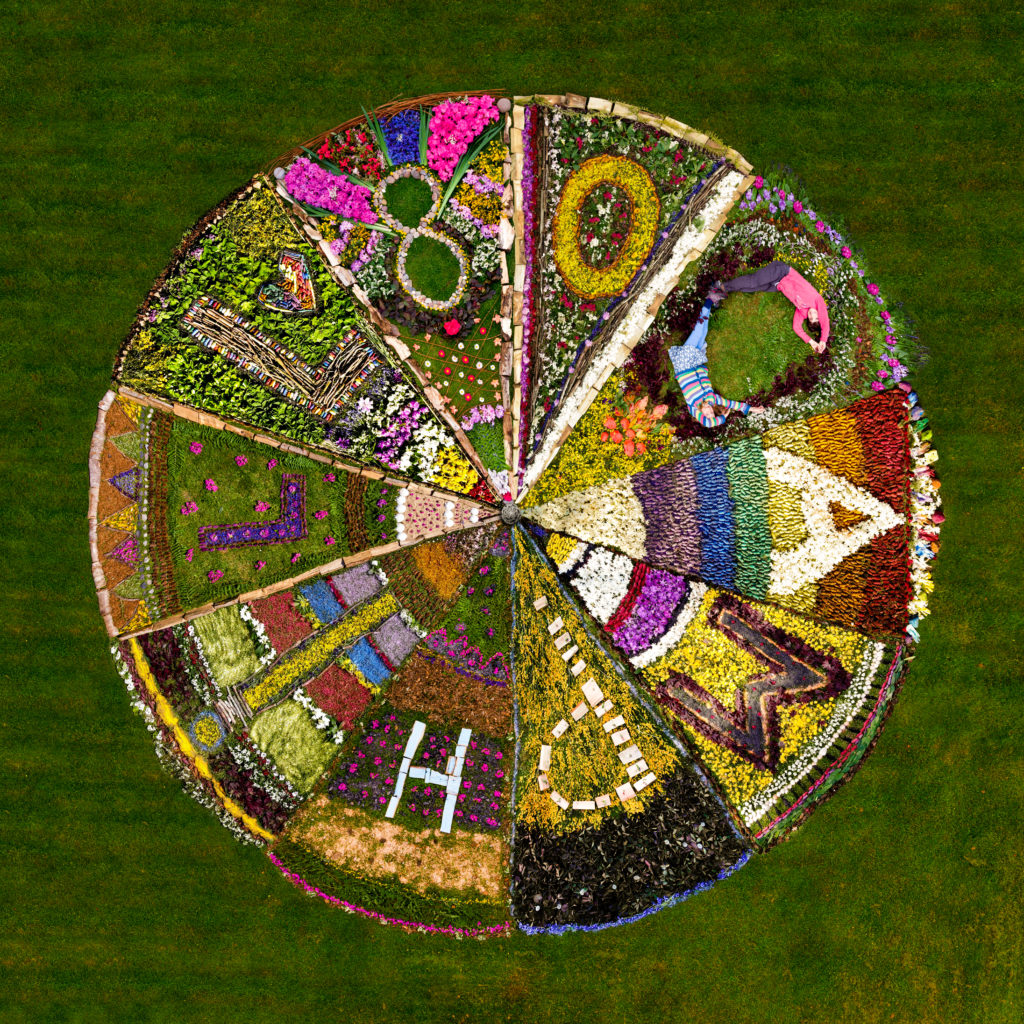 In 2019, Camphill School Aberdeen started to plan for their 80th birthday celebration on 1st June 2020. They were big plans:
They would have a grand fayre, an open day welcoming many people to Camphill, showcasing and selling products made by the children and young people;
They would have an exhibition which told the story of the first two decades, including photos from the past, recorded reflections from those who remembered and showcasing art from their archives. Former residents and co-workers were due to return for the occasion
However, as the pandemic took hold and lockdown was ordered in March 2020, it was clear that there would be no possibility of implementing the grand plan. This is the story of what Camphill School Aberdeen (CSA) did instead.
They decided on a week-long Facebook birthday celebration with key themes for each day. They had also decided to use some of the material from the First Two Decades project and offer a then and now vignette of Camphill.
Day 1 (1st June)
Most birthdays celebrate with a cake. All houses were in separate bubbles so it was decided to have a birthday cake competition with all houses making one. They were fabulous.
It was also decided that each house would help create a mandala cake with each contributing one slice: 10 houses, 8 letters, two numbers spelling CAMPHILL 80. Instructions were given as to the dimensions of the slice; but the design was left to the creativity of the house staff and residents. Each house made their slice in their house garden. Each was then photographed by a drone and the photos put together to create the Camphill mandala birthday cake.
Day 2
This was a day for talking about children and young people, so the first 2 children to arrive in Camphill were featured as well as 3 current residents.
Peter was Camphill's very first child arriving in the spring of 1939 at the age of 10, thus was a Camphill pioneer. Peter stayed in Aberdeen until 1956 boarding and attending the school, and when Botton Village became part of Camphill's expansion; he became a pioneer for the second time of his life. This time he was to be one of the first adults to join the adult community/village.
Brendan, Jim and Neil, current residents were also profiled. In Jim's own words:
Day 3
This was a day to present profiles of co-workers.
From the early days: Thomas Weihs who was born in July 1914. During his studies in Medicine at the University of Vienna he met Dr Karl König and became part of a youth group whose members formed the core of what was to become Camphill in Scotland. He joined Dr König and the others on Camphill estate in Aberdeen as one of the first co-workers. As Camphill grew, so his responsibilities increased, ranging from farming and general handyman to doctor, educator, lecturer and writer. In 1957 he was appointed Superintendent of the Camphill Work by Dr König. His best-known work, the book Children in Need of Special Care, was published in 1971 and has since been reprinted on several occasions and translated into 14 languages.
In the present time, 3 co-workers were featured: Martin, Ashley, Philip.
On what prompted him to become a co-worker, Martin said: I never expected this to be my vocation. I started because I was asked to help out and was needed. I then went to Sophia Project in California for a year as a volunteer when I finished school and there a learnt a great deal about Camphill, it's values and history. I began to study the Curative course in the US and had a choice of where to finish my studies and choose to do this at Camphill School Aberdeen because of the link to the BA in Social Pedagogy.
Regarding what was the Wow! Factor, Ashley said: Working with the students and seeing them develop skills and mature over the years. It is so wonderful to work with children and youngsters that you can form strong bonds and connections with.
On whether he would recommend this way of life to others, Philip said: Absolutely. I have witnessed and taken part in the miracle of life sharing and that is a huge part of why I am still here. We can learn so much from each other. My four children were born here, it is the place I was married and made many dear friends. My experience has always been that when we share and help each other we become 'richer' through our sacrifice.
Day 4
This was a day for celebrating creative art at Camphill
The Reverend Peter Roth OBE was one of the early founders of Camphill. He studied medicine but later became a priest. He was interned on Isle of Man, along with Karl König and Thomas Weihs. He was also an artist. Peter and his wife, Kate founded Botton Village in 1955.
The sketch below is of internment in Isle of Man: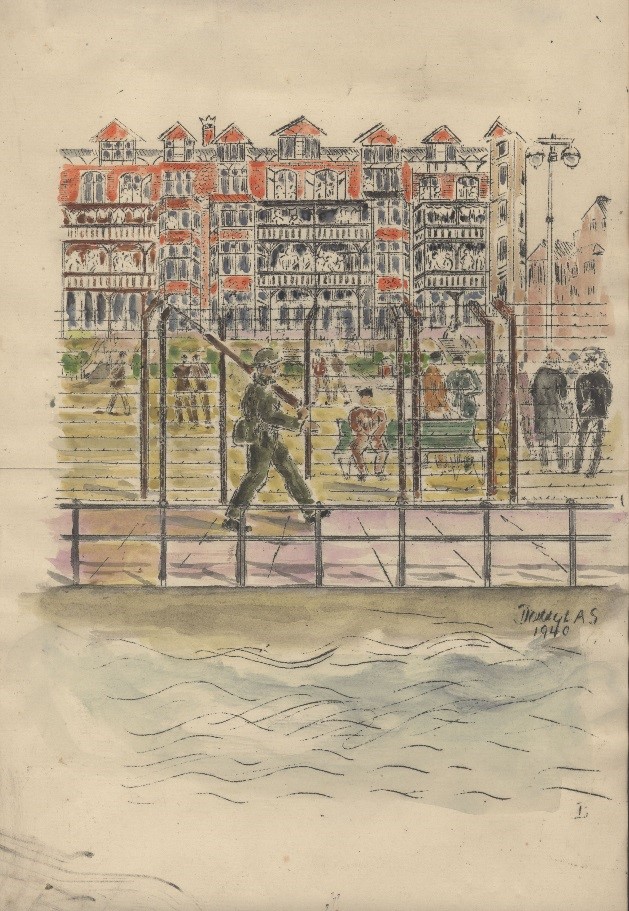 In 1963 Herman Gross arrived in Camphill School as artist in residence. Gross had studied and worked in Picasso's studio along with a number of other art students. He had greatly admired Picasso both for his humanity and for his art. He also acknowledged that the most important and formative time in his life was when he was in the presence of Picasso. He was a prolific artist and a fantastic collection of his art can be seen here.
Present day artist David Newbatt was also featured. He is an artist who has lived and worked as a co-worker in Camphill communities for 48 years. He came initially as a young volunteer in 1972 aged 22 with an underpinning drive to become an artist. Being an artist in a community such as Camphill is an art. The art of finding the balance between personal space and time to create and the endless community demands. The painting below is titled: The challenge of inner balance:
Day 5
This day featured challenges facing Camphill.
The first challenge in the early 1940's was the internment of men from Camphill:.
With the advance of the war the British Government increasingly felt threatened by the sheer number of enemy aliens on their shores and a programme of incarceration began. In this instance all the men were removed. Tilla König wrote that: "…my husband and all the other men in our community have been taken away…"
There was utter confusion about what would happen to those taken away. Where would they stay and for how long? Some men were placed as far away as Canada for years at a time and sometimes up until the end of the war itself.
Karl König, Peter Roth and Thomas Weihs along with their friends Hans Schauder and Ernst Lehrs were somewhat luckier, in that they were interned on the Isle of Man. It was there that they reconnected with many friends and associates from Austria and Germany in the medical and scientific fields, as well as those of the arts and could continue to learn and grow while they waited for repatriation to mainland UK. A 'university' of sorts; in a place of incarceration.
The present day challenge described was coping with the Coronavirus pandemic. As the pandemic started to take hold in Scotland, CSA began to make major changes to its provision in order to ensure the safety of children and young people.
As lockdown loomed on the horizon the first steps towards safe isolation bubbles began to emerge. Day pupils and students had separate programmes to residents and the footfall into residential houses was reduced as much as possible. Staff were offered the option to live on site to decrease the movements of people on and off site and each house became a separate entity with their own programmes. Across the estates social distancing was now observed and personal protective equipment (PPE) became part of daily life.
One of the most significant changes was that children and young people that would usually go home regularly were no longer able to do so. Many have stayed at CSA and a few went home to stay with their families. This has meant that many have had to get used to seeing friends and family in a new way; via video calling and to experience what CSA is like on the weekends and during the holidays.
Throughout the whole process good communication has been key. Early on, a daily bulletin was established that was shared with all staff and was a mix of factual information, guidance and updates on what was happing across CSA. As things have begun to settle the bulletin remains a regular feature, but is no longer daily.
The significant challenges and strain on staff is a real concern and work was done to establish health and wellbeing guidance and support.
Across the estates there have been weekly creative projects that have inspired many and helped to create beauty. On Camphill estate, residents still go to school but they do so in 'house' classes and have much of their education outdoors. The young adult residents on Murtle and Cairnlee estate participate in outdoor 'house' group, workshops and many activities in and around their houses.
Day 6
This was a day in which past and present activities were celebrated and a day on which the many therapies in CSA were featured. Here are six of the images shared:
Day 7
The final day celebrated Camphill from its early beginnings to becoming a global movement. This is a timeline of its growth and development in the first 60 years.
| | |
| --- | --- |
| 1938/39 | Dr König at Kirkton House |
| 1940 | Camphill House acquired and the Camphill movement founded |
| 1951 | Camphill School near Bristol started |
| 1953 | Glencraig Community Northern Ireland started |
| 1955 | Botton (1st Adult village started) |
| 1960 | Communities in South Africa, Germany, Holland and USA started |
| 1960's | Communities in Switzerland, Norway and in Stourbridge the 1st Urban Village in Britain started |
| 1966 | Dr König passed away |
| 1970's+80's | Communities started in Finland, Irish Republic, Wales, Botswana, Austria, France, Brazil, Sweden, Canada |
| 1990's | Communities started in Eastern Europe-Poland, Estonia and Russia |
| 1999 | 1st Asian community in India |
Since its foundation in 1940, the Camphill movement has continued to grow and now there are 119 communities in 27 countries across the world. This pays testimony to the power of the Camphill vision to transcend geography, culture, language and nationality. 
You can visit a Camphill community in Austria, Botswana, Canada, Czech Republic, England, Estonia, Finland, France, Germany, Hungary, Republic of Ireland, Latvia, Netherlands, Northern Ireland, Poland, Russia, Scotland, South Africa, Sweden, Switzerland, the United States of America, Vietnam and Wales as well as Camphill inspired communities in India, Israel and Japan.
The day 7 narrative also made mention that Camphill Communities across the world hold regular International Dialogues. People working and living in Camphill settings worldwide can attend these conferences to discuss key issues impacting on their charities and on the people they support. The last International Dialogue was held in South Africa in 2020.
Virtual interaction
As stated at the top of this piece, Camphill had hoped to have the grand celebratory birthday fayre and exhibition, which would have encouraged lots of interaction between people attending and those living and working in CSA. This was not to be, but the week-long Facebook birthday celebration created a wonderful opportunity for virtual interaction. Readers of the Facebook pages were encouraged to make comments. Every day this happened and dialogue was created in so doing. Here are 12 contributions from this dialogue:
On the birthday
M: Happy birthday to all of you at Camphill! You're performing miracles every day. Thank you from the bottom of my heart Have a wonderful day
J: Camphill is an amazing and wonderful place so peaceful beautiful and they have contributed so much to the community and as I used to be staying there in Murtle Estate I had learnt so much on so many different languages, cultures, disabilities and I have so many absolutely wonderful fantastic memories of my time there
About Karl König/founders
C: What an inspirational man & what amazing work has been done through his work & his colleagues. Well done – keep up this amazing work which to this day still gives help & support for those who need it…. bless you all.
About the young people
B: Dear Brendan, Jim and Niall, thank you for sharing your stories and pictures. You have brought all sorts of sunshine into the day. I hope you had wonderful cake yesterday! Thank you
About the co-workers
Ashley
B: You are brilliant and Brendan thinks the world of you, as we do too
Martin
S: Thank you for sharing. So interesting Martin to better understand your life long connection to Camphill Aberdeen. Do many people who grow up in a community return to live and work?
Phil
A: It is lovely to learn more about the co-workers, thank you. My son thinks the world of Philip!
About the creative art
M-M: Wonderful to be reminded of Herman Gross. I often shared the evening meal with him and his wife at Murtle estate. Important people in my early 20's.
N: It's wonderful to see these paintings and sculptures as part of our 80th celebrations.
J: Beautiful paintings, David, such a wonderful painter
On the challenges faced by Camphill
L: I cannot thank the staff at Camphill enough. What would have been a very anxious time has been made bearable by the help, support and love we have received. I now know why it is a Camphill family. Thank you from the bottom of my heart
A final comment:
---
Written by John Richards from Camphill School Aberdeen