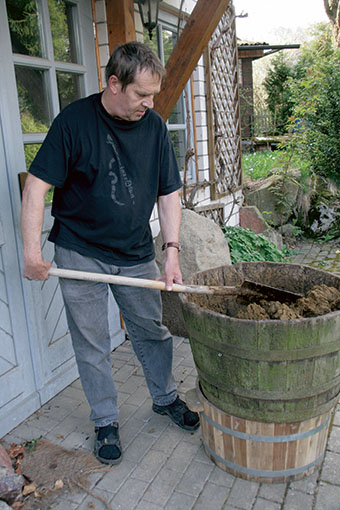 On 22nd June 2020 our dear father, Matthias Kaspar Thun, passed away quite unexpectedly.
Aged 72, Matthias was still full of life. He enjoyed watching my brother, Friedrich, take over the family farm, here in Dexbach, and offered him unending support. In his last year, Matthias found pleasure in welcoming new animals on the farm, revived many old friendships, put aside old disagreements and rediscovered the depth of his relationship with nature. His sudden death was a surprise and shock to us all.
Matthias Thun was born in Marburg, Germany, on Leap Day (Sunday 29th February) 1948. He proudly told us, again and again, that only children born on a Leap Day and a Sunday were able to find treasure and, according to local legend, have the gift of seeing the golden spinning wheel in the River Lahn. Matthias may not have found this spinning wheel, but he was convinced that he had led a lucky life.
Matthias dedicated most of his life to his mother Maria's agricultural research. Maria Thun was a biodynamic pioneer and creator of The Maria Thun Biodynamic Calendar, the world's best known and loved biodynamic sowing and planting calendar, for 50 years. Without Matthias's wholehearted support, Maria would not have been able to carry out her work and keep in contact with people around the world who shared her passion for understanding how cosmic forces work on earth. When Maria became ill Matthias cared for her until the end, as he had cared for his father before. He kept the promise he had made to his parents that they could always live and grow old with him.
After his mother's death in 2012, Matthias continued to produce the The Maria Thun Biodynamic Calendar each year.
My brother Freidrich and I never felt obligated to follow in the footsteps of our father and grandmother. We knew we were free to do whatever we wished. Friedrich went into agriculture of his own accord and I made writing my vocation. However, over the past few years, we have been working with our father, calculating the data and writing for The Maria Thun Biodynamic Calendar. And we shall continue to create the calendar, not out of a sense of duty, but of our own free will.
Maria Thun's work will remain at the heart of The Maria Thun Biodynamic Calendar – countless of her unpublished texts will be reviewed over the coming years. Fredrich and I will continue to grow and learn in our work and endeavour to seek answers to the questions Maria left behind. We hope that in this way we will continue to honour our grandmother and father's legacy.
–– Titia Thun, Dexbach, Germany, August 2020.