Charles Kovacs was not only a teacher at the Rudolf Steiner School in Edinburgh for 20 years. He also fought in the Second World War and gave over 300 lectures to adults. In this extract from Christianity and the Ancient Mysteries, his late wife Dora Kovacs reflects back on the incredible life and work of Charles, his passion, ambition and dedication to his work and the anthroposophical community.
---
Charles Kovacs was born in Vienna on February 8, 1907. When he was still a young child the family moved to Nussdorf on the Danube, where the river flowed just before the house, so that he could see and hear the barges passing by, loading and unloading. Behind the house were forests of nut trees; to the left there shone a special light over the Kahlberg. It was here that he first went to school.
With the sudden death of his father, the family – his grandmother, mother and his younger brother Erwin – moved to their uncle's lovely villa in Baden at the foot of the Vienna Woods. At that time the inhabitants of Baden were forward-looking and had high civic standards. They built fine modern art galleries to show the new styles of painting that had become popular. Charles was very interested in painting. He visited these galleries and then worked on his own pictures when he went home. He was about twelve years old when he showed his paintings to his respected art teacher, Professor Friedrich Thetter. Thetter's two children were also Charles' friends at the school and Charles was invited to come regularly and to bring his paintings. Professor Thetter, a long-standing anthroposophist, then introduced Charles to the fundamentals of art, to Goethe, then to Rudolf Steiner and anthroposophy. It was an encounter Charles never forgot. He was deeply grateful to Professor Thetter and they remained close friends, corresponding even when they were far apart. Charles and his brother Erwin both became members of the Anthroposophical Society, Charles when he was 22 years old.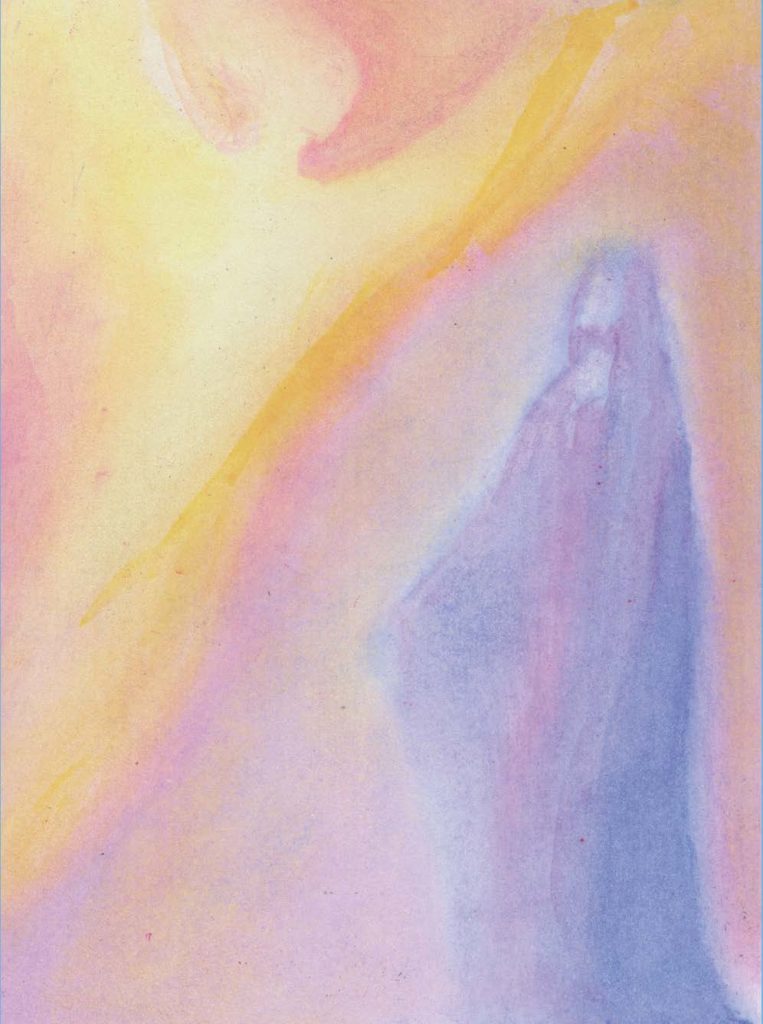 Life was lively in Vienna. Charles would listen to the latest hits on the wireless in the evenings and next day he would play them to his friends, for both brothers had learned from their mother to play the piano. His uncle employed him for a time in his warehouse, selling coffee and tea, and it was his son who later, when Charles was 32, invited him out to Kenya. He enjoyed working on a large farm; the compound was so extensive that he needed a horse to get around it all and for a while he was in charge of a sawmill. It was during that time that he drew (on the backs of reference cards used at the mill) and compiled a small book of Pietas – each drawing so different!
Then came the Second World War and he volunteered to join the British Army. He was proud to be able to say that he fought with the 8th Army at El Alamein. His army discharge paper says of him: 'This man is thoroughly trustworthy, outstanding for his intelligence and linguistic ability. Speaks English and German fluently and has a fair knowledge of French. Extremely energetic and untiring in his work. Capable of organization and control of staff. Has responded to calls of duty beyond the normal requirements.'
After the war he returned briefly to Kenya where he had started an anthroposophical study group. In April 1948 Charles came to London. A relative needed somebody to take on the responsibility of his firm in Golden Square, Piccadilly, and Charles worked there for about eight years. It was well-paid work, but it was a heavy burden. Before long he came to the anthroposophical group meeting one Monday evening; this was where we met, and within six months we married. Charles was soon asked to take over the study group at Museum Street and as part of his work for this group he translated works by Rudolf Steiner not then available in English. He became a member of the Council of the Anthroposophical Society and gave many lectures. Our home was, as Charles wanted, frequented by members of the group most evenings. When they had left he would often paint or draw, an activity which for him seemed a necessity. It was a member of the group who urged Charles to become a teacher. And so it came about that we came to Edinburgh in 1956 to teach at the Rudolf Steiner School.
Then his most productive years began. He took over a Class 4 of thirty-five children. As part of his preparation, he wrote out his lessons day by day so that he built into his teaching a structure, inspired by Rudolf Steiner's curriculum, which could satisfy the growing child. These notes now stand as a fine example of the new and living way Steiner wanted his curriculum presented to children. Some of the notes have been made into books and they have been widely used in many different schools.
As a Waldorf teacher, Charles' creative talents were called on more than ever before. His special gift for painting and drawing was put to good use and his work was much in evidence around the school. For example the kindergarten, which I took over, was blessed and looked upon by the guardian angel that Charles painted. He composed songs and poems, he wrote plays for his classes; Charles was completely given over to his teaching. At the same time he held parents' evenings, had regular study groups and gave lectures within the Anthroposophical Society and to the public. For a time he travelled regularly to Ilkeston in Derbyshire to work with a group of friends there. His pupils wanted him to come to the upper school to give them the philosophy main lesson when he had already retired.
Charles was about 82 when he found that his right leg, injured during the war, was getting more troublesome; until then he regularly gave study groups and lectures outside the home but gradually he found that walking had become difficult. Now he studied even more intensively with the groups and people who met here regularly, working on fundamental books by Rudolf Steiner. In between he found time to paint, but he never put his signature to any of his creative work.
Charles died in 2001. He gave me so much, I would like to thank him.
---

About the Book
In this latest book, Charles Kovacs offers deep insight into Steiner's Christianity as Mystical Fact and the Mysteries of Antiquity.
Kovacs' knowledge and wider reading enables readers to better understand and approach Steiner's text. Illustrated with Kovacs' own, beautiful colour paintings, Christianity and the Ancient Mysteries is available to buy now.