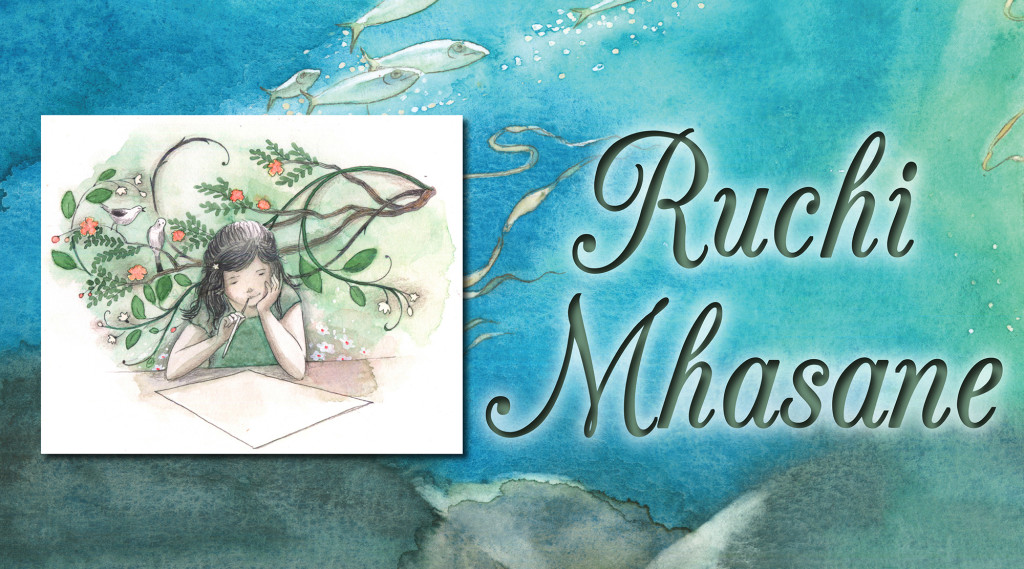 Illustrator of…
This week, we are interviewing Ruchi Mhasane, the wonderful illustrator of The Selkie Girl, an emotional re-telling of a classic Scottish folk tale by Janis Mackay. We'll be talking with Ruchi about her inspiration behind these beautiful illustrations as well as her personal work.

Hi Ruchi, we're excited to hear all about The Selkie Girl and your role as an illustrator. Can you tell us how you got started illustrating this project?

I looked at a lot of Scottish landscape photographs, some kindly sent to me by Leah (the book's designer) and friends who'd been there. I had also seen some observation drawings by a good friend who had visited Scotland for a birding trip. There is nothing like visiting the actual place to be truly inspired, but unfortunately, I only managed to visit Scotland many months after I'd finished the illustrations for The Selkie Girl.
We're really impressed with how you captured the beauty of Scotland's landscapes in the story even though you'd never visited the country. We hope you enjoyed getting to see Scotland firsthand on your trip! Tell us about the process of working on The Selkie Girl; it's a very emotional story and your illustrations contain a lot of feeling. What part of the story inspired you the most?

I think the story as a whole is very evocative. The scenes at the beginning on the beach where Fergus finds the fur, were really very clear in my mind. Perhaps that is because the tension is built up over a couple of spreads; I could see them really vividly.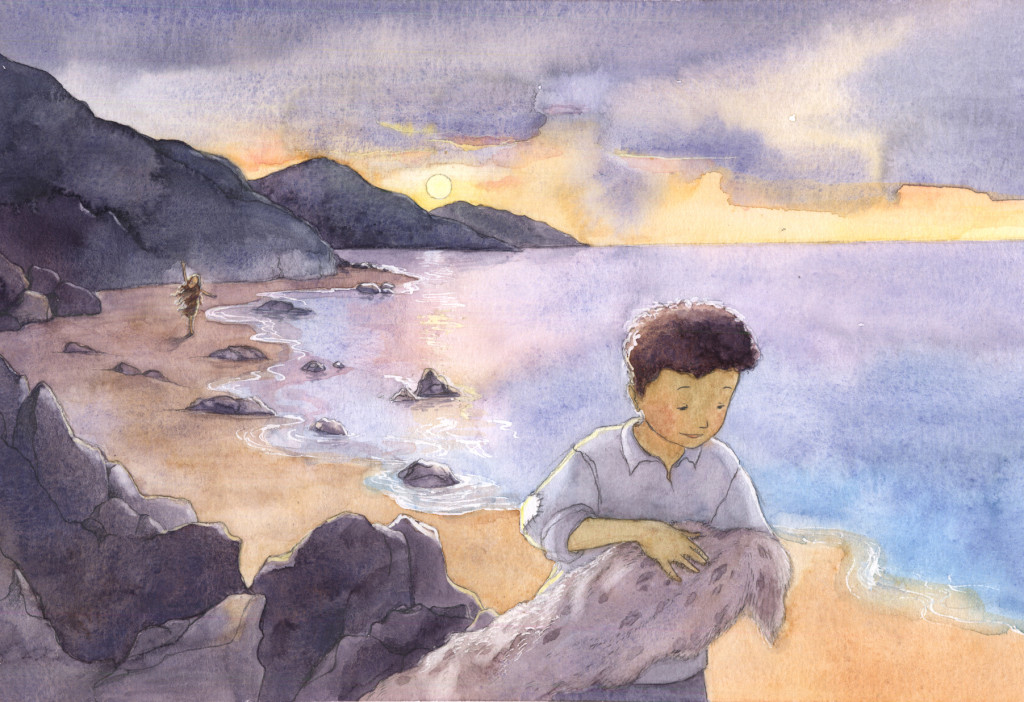 Your illustration of Fergus finding the selkie skin is brilliant; the contrast between Shonagh's panic and Fergus' happiness is really clearly shown.You create a great atmosphere just by using colour; how did you decide on the palette for The Selkie Girl?
I knew that it had to be gentle and magical and include the natural colours of the Highlands, but it took a while to get the balance of gentle and vibrant right. I tend to enjoy subtle colour so it is sometimes a challenge for me to keep my images from being too dull.
We think you did a great balancing act. The colours bring a lot of mood and excitement to the pages! Could you tell us if you have any favourite illustrations from The Selkie Girl?

Yes, the one where Shonagh looks out at the moonlit sea! I feel like that really touches the core of the strong sense of belonging that she has towards the sea.
She looks really heartbroken to be separated from it; it's a great pick. We've been asking our Traditional Scottish Tales illustrators about their inspirations from folk tales that they heard growing up. Do you have any childhood favourites?
I listened to many Indian folk tales of talking animals and birds with humour, wit and much wisdom woven into them. I don't quite have a favourite, but a funny one I remember being told (almost sung to) was about a poor little mouse who finds a piece of cloth and wants to make a hat out of it. He asks for help in the washing, dyeing, stitching of it; nobody takes him seriously at first but he perseveres and at the end makes a hat he thinks is finer than the king's!
In terms of books, we had some Russian picture books containing folk tales from the country; one that I used to adore was about a clever little hump-backed horse who helps his young peasant owner in his troubles. We had the ballad, richly illustrated, in a thick large book, and I enjoyed the beautiful illustrations immensely!
What a rich background to take inspiration from! Could you tell us about what motivated you to become an illustrator?
I've been drawing all my life. Both my parents are artists and they gave my drawings full rein from my childhood. When I got into art school, illustration naturally seemed the way to go, almost as if it was impossible not to choose it!
It sounds like fate! Was working as an illustrator as you expected it to be?
To be honest, I didn't quite expect anything. I never dreamed of being an illustrator, as in India I didn't see it as a major career choice; I didn't even know of any illustrators while growing up. It just happened and I was doing drawings before I had time to think about how I'd like work to be. But all in all, it has been very pleasant; I love getting new projects, building it all up in my head and I love doing the artwork. The job can be a bit unsteady at times, but that doesn't bother me much when the work is so absorbing.
That's great to hear, and we're certainly very happy you chose it as a career! Do you find it different working under contract than for personal projects?
Not very. I think there are some differences with timelines, or with inputs from others, but those are easy to handle if you are working with nice, understanding people. I'm glad that the Floris team was really nice throughout the process and I didn't feel the work restrictive in any way.
We're so glad to hear you enjoyed working with our team; you were an absolute joy for us. Could you tell us where  you like to work on your illustrations?

I am quite flexible when it comes to workspaces, especially as I've moved many times in the last few years. But I do like lots of natural light, and a bit of space around my artwork which I can clutter up (in the order I choose). Some peace and quiet is a must!
       Ruchi's work space in India!
It's always interesting to see our illustrators' workspaces. We can see both a paint palette and a laptop on your desk, do you prefer traditional or digital methods when creating your illustrations?

Oh, I'd prefer traditional over digital anytime. It allows for much better mark-making which you can never quite achieve digitally. I've found it is stricter as you cannot erase your mistakes easily, and it teaches you colour as you have to mix and create the right colour as opposed to choosing it on a screen. Traditional media is the more difficult choice, but it trains the artist more thoroughly. Having said that, using digital techniques for small corrections and enhancements saves loads of time and is definitely a practical option.
That's very sensible; it seems that most of our illustrators use a combination of the two. So what do you do if you get illustrators' block on a brief?
It is hard, but I give it time. Some free experimenting and playing with work helps a lot. It is important for me to keep trying something, perhaps other than the brief, instead of completely giving up all drawing. But complete breaks can also help, a day out with friends, or a walk or even a good book can all help ease the stress and I can then come back and look at it afresh.
That's great advice for anybody stuck on a creative project of their own! Can you tell us about your favourite illustrator or designer and why?
Oh, so many to list, but I love Lisbeth Zwerger! Her use of watercolour is amazing, I cannot stop looking at her images. Her tones and composition and weirdly strange characters just all come together very beautifully.
Thank you, Ruchi for taking the time to share with us about your work!
Ruchi Mhasane studied Children's Book Illustration at the Cambridge School of Art. To see more of her beautiful work you can visit her website or follow her on Twitter. She has illustrated The Selkie Girl, a Traditional Scottish Tales.