When the nights draw in, it's the perfect time for snuggling up with a story. And listening to a story aloud can be an extra-special treat. Bear Child has all the elements of a great winter tale – starry nights, a hint of magic and a hug from dad. Now, author Geoff Mead has provided not one but two extra gifts for winter story time.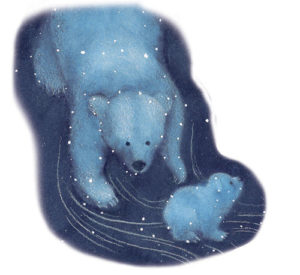 The Bear Son and John Bear are two new stories revisiting Bear Child's Ursula and Daddy. Each brings to life a traditional tale of bear folklore, in Geoff's original style.
One snowy night in The Bear Son, Ursula's daddy tells her the story of Ulva, the old Inuit woman who adopted Nanuk the polar bear as her son. And in Geoff's second tale, Ursula's Daddy takes her camping in the Pyrenees. Daddy tells her about a local legend – John Bear,  a story about a boy whose father was a bear. But, Ursula is convinced that the story should really be about Jane Bear!
For a limited time, we'll send you these two exclusive audio stories read by Geoff Mead. Just place your order of Bear Child before 14th December to claim this special offer.
---
More about Bear Child and Geoff Mead
Who are the bear folk and what makes them special?
Bear Child is an inspirational story of parental love, belief and embracing individuality. This beautiful picture book weaves together Geoff Mead's charming words with Sanne Dufft's ethereal illustrations to create a truly timeless folktale.
Listen to Geoff Mead read the original Bear Child over on our YouTube channel.