Get your classroom ready to celebrate Michaelmas with these easy Michaelmas crafts. Your class will love collecting brightly coloured leaves to create their own window artwork. Make a leaf window border for autumn, or celebrate Michaelmas with your own dragon design.
Find more Michaelmas crafts in Crafts Through the Year.
---
Autumn leaf decorations
It can become an absorbing activity to look for brightly coloured autumn leaves, and many things can be made with them, especially with dried leaves. Medium-sized and smaller ones are most suitable. Collect leaves of many different shapes; when you are arranging a pattern their variety will enhance the design.
Leaf window border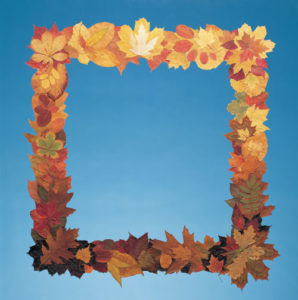 Materials
Dried autumn leaves
Large sheet of tracing paper
Modelling cement or glue
The picture shows an ornamental border made of dried autumn leaves.
Don't glue or cement the leaves directly on to the window because scraping them off again entails a lot of work (though paste can be washed off with warm water). It is also easier to make the border lying flat to try out the colour-layering and leaf combinations.
Take a large sheet of tracing paper, cut to the size of the window. Cut out the centre of the tracing paper (the border frame can also be made with strips of paper joined together). The decoration shown was made on a tracing-paper frame 10 cm (4 in) wide.
Lay out the decorations loosely on the paper so you can see when the combination is right.
Begin by arranging a number of leaves overlapping each other to make a corner. Keep rearranging the leaves until they give a pleasing appearance, but take care with them as dried leaves are brittle.
Then stick the leaves one by one to the tracing paper. Because the leaves have been dried it is best not to use a water-based paste. Modelling cement is the best: it sticks well and dries quickly. Remove surplus glue quickly.
After each item allow the glue to dry so that everything remains in place. Lay something heavy on top (such as a thick book).
If you don't want to wait while the first batch is drying, continue in another corner.
Make sure the edges of the paper are completely covered with leaves and no longer visible once the decoration is finished.
When the border is finished it can be stuck to the inside of a window with some adhesive tape.
After removing it the decoration can be stored between two sheets of card.
Michael and the Dragon from harvest leaves
Making Michael and the dragon from dried leaves is similar to the window decoration above. This time not only the border is decorated, but a whole picture is made.
Cut the tracing paper to fit the window frame.
First sketch out your drawing, then begin to lay out the leaves at one corner of the paper but this time without overlapping.
When each part has been glued on dry it under a weight.
Don't cover the whole sheet with leaves — leave some parts open to allow light to shine through.
---
About this book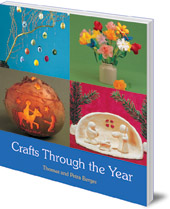 Make homemade toys and decorations with children to celebrate festivals throughout the year. Crafts Through the Year is packed with enjoyable projects, this is the perfect resource for both parents and teachers.
Have you tried these Michaelmas crafts? Share your photos with us on Facebook or Twitter.