Flower essences have been used for many years to treat all sorts of illnesses and ailments. In his new book, Treating Depression Naturally, experienced flower essence therapist Chris Phillips looks at how they can be used as part of a considered treatment programme for depression and other mental illnesses. Chris explains more about what they are and how they are used in a guest blog post.
How Flower Essences can Rebalance Your Health
Chris Phillips
As a flower essence therapist for over thirty years, I have seen first hand the improvements that can be made by using flower essences as part of a considered treatment programme for depression. In my book, Treating Depression Naturally, you will find case studies, insights and inspiration to start you on your own journey to using flower essences successfully.
Herbs and plants provided by nature have been used to treat illnesses and ailments for thousands of years. With the increase of people living in cities following the Industrial Revolution, however, much of this ancient knowledge has been lost. Furthermore, the development of mainstream medicine and the pharmaceutical industry has overshadowed the ancient wisdom.
Dr Edward Bach is widely credited with the (re)discovery and perfection of flower essences for the Western world. By the time of his death in 1936, he had developed an entire new system of healing comprising 38 remedies. The discipline grew from there, and there are now thousands of essences available. I can recommend five essence makers that I use most of the time – Bach, Bailey, Australian Bush Flowers, the Flower Essence Society and Pacific – but there are many other makers out there.
The technique I adopt for the selection of essences is called 'repertorising', where essences are matched against symptoms. No harm can come from using a "wrong" essence, so I want to strongly encourage people to use their intuition when choosing essences. Each essence maker has very clear, evocative descriptions of the positive and negative effects of their essences, but in fact essences can be used far more widely than their descriptions suggest. I want people to use their intuition when selecting essences, to find the remedies that resonate.
Unlike conventional medicine, flower essences deal with causes rather than symptoms, depths rather than surfaces. I am not aware of another therapy that is so accessible and yet penetrates so directly and deeply to the source of our difficulties, and then dissolves them.
Because the 'seed' of depression often goes back a long way, I want to emphasise the importance of patience. I try to steer people away from the idea of 'with one bound, Jack was free.' The medicine produced by flower essences does not heal us directly, but acts as a catalyst for our soul's healing capacity, just like psychotherapy. Many types of therapist use the essences in this way, and we must accept that this takes time.
The best way to select essences, I believe, is to choose them to work on whatever symptoms are uppermost in one's mind at the time. When being used to treat depression, as with any illness, the aim of flower essences is to reduce 'stuckness'. This is done by taking account of the most pressing feelings and applying essences to alleviate them. In due course, vital energy levels and the trust will lift.
Sometimes essences seem to have absolutely no effect. Possibly an inappropriate essence has been chosen, but, very often, there is an issue of resistance. Despite our best intentions, deep down we do not wish to change. We have forged this personality of ours in spite of all the obstacles we have encountered along the way. And it works for us. Part of us simply refuses to let any of it go, even though the effect of the essences is to suggest a more effective way of being. A good place to start addressing this problem is to simply choose essences to improve your mood. Gradually, the body's resistance breaks down and allows other positive changes to occur.
More on my website at www.flower-therapy.co.uk.
---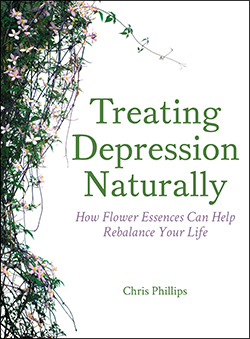 Find our more about using flower essences as part of a considered treatment programme for depression, anxiety, seasonal affective disorder, insomnia, hormonal imbalance and more in Treating Depression Naturally.
Save
Save
Save