Picnics
Everyone knows that food tastes better when eaten outdoors. Our perfect picnic is colourful, healthy and fun, especially when kids and grown ups all help to prepare the meal. Our plan for the perfect summer picnic features tomato crostini, refreshing elderflower cordial and delicious strawberry ice lollies from the book Pumpkin Soup and Cherry Bread.
Water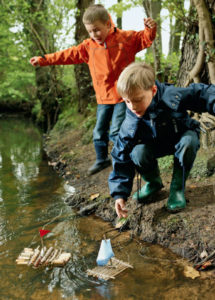 There is nothing better on a hot summer's day than dipping your feet into the cool water of a stream. If you're lucky enough to live near a stream, or if you're visiting one while on holiday, check out Stefanie Pfister's ideas for exploring a stream with children. Build boats, discover wildlife, and learn how to look after the natural environment in this extract from Spring and Summer Activities Come Rain or Shine.
The Garden
You don't need to go far to find fun outdoors this summer. There's plenty to do in your own, or a friend's, back garden, as demonstrated by the children in Gerda Muller's A Year in Our New Garden. Why not collect leaves and flowers to make a beautiful crown to celebrate the summer?
Reading Outside
Whether it's on the beach, at the park or in the garden, reading outside on a sunny day is wonderful. Here are some of our favourite summery picture and story books for sharing with children over the holidays. Click on each image to find out more!
For more ideas to keep children entertained over the summer holidays, have a look at our selection of craft and activity books.
Save
Save
Save
Save
Save
Save
Save