We were delighted to return to the beautiful Creative Exchange in Leith on Thursday evening to host the fourth annual Kelpies Design and Illustration Prize award ceremony. The ten shortlisted designs looked even more impressive in these grand surroundings!
This year, designers were asked to create a fun and engaging book cover for debut author Elizabeth Ezra's Kelpies Prize-winning novel Ruby McCracken: Tragic Without Magic. The winner will go on to work with the Floris design team to create the final cover for the book, which will be published in October.
The excitement was palpable as Design and Production Manager Leah McDowell took to the stage (or in this case, the stairs) for the moment everyone had been waiting for: the announcement of the winners. This year, there were three prizes: the overall Winner and one Highly Commended runner-up chosen by the Floris judging panel; and a second runner-up chosen by public vote, the People's Choice award. We were very pleased to have author Elizabeth Ezra with us to present the awards to three very talented designers.
And so, without further ado, the winner of the Kelpies Design & Illustration Prize 2017 is Aimee Ferrier, a student at Edinburgh College. The judges loved the style of Aimee's illustration, which they felt would appeal to the book's target audience, and were impressed by her use of humour and detail.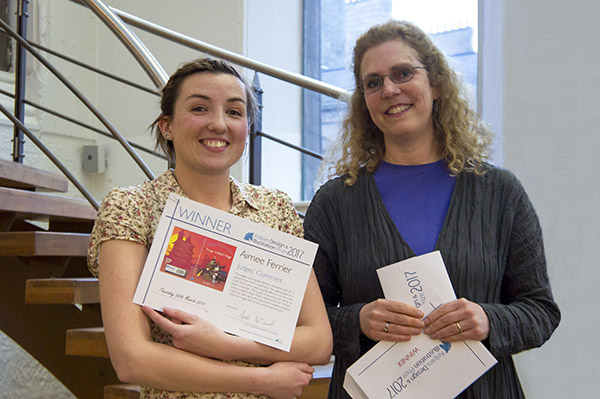 The Highly Commended prize went to Nataša Ilinčić, a designer based in Edinburgh, and the People's Choice award went to Grisel Miranda for the second year running.
The ten shortlisted designs will remain on display the The Creative Exchange until 9th April (Monday-Friday, 10am-5pm). If you think you have what it takes to be on next year's shortlist, please keep checking our website, where details of next year's Kelpies Design & Illustration Prize will be announced.
Save