Illustrator of…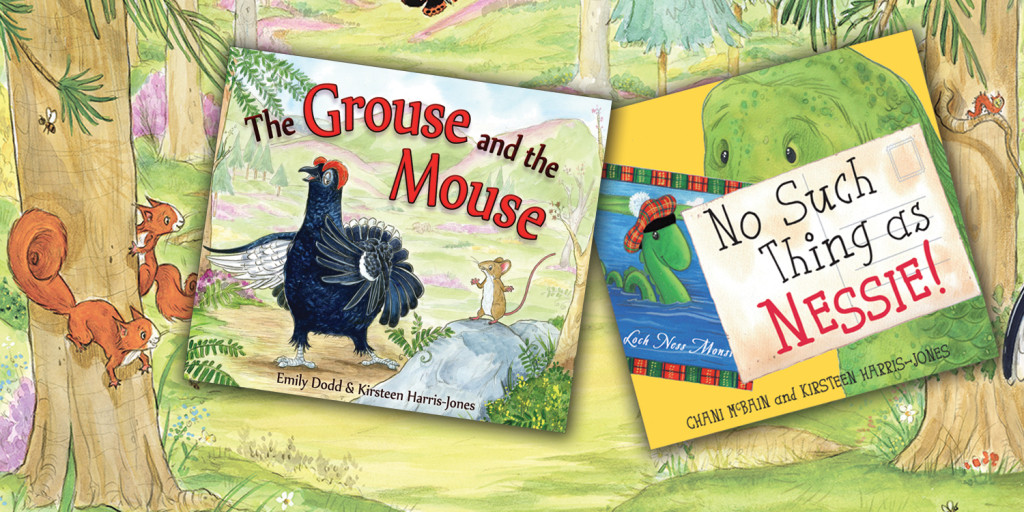 Kirsteen Harris-Jones illustrated her first Picture Kelpies book, No Such Thing as Nessie! in 2013 written by none other than Chani McBain, our Sales and Marketing Manager! Kirsteen's latest Picture Kelpies book is The Grouse and the Mouse by Emily Dodd. It's a story about two loveable characters, Bagpipe and Squeaker, one of whom learns a valuable lesson while making a new friend.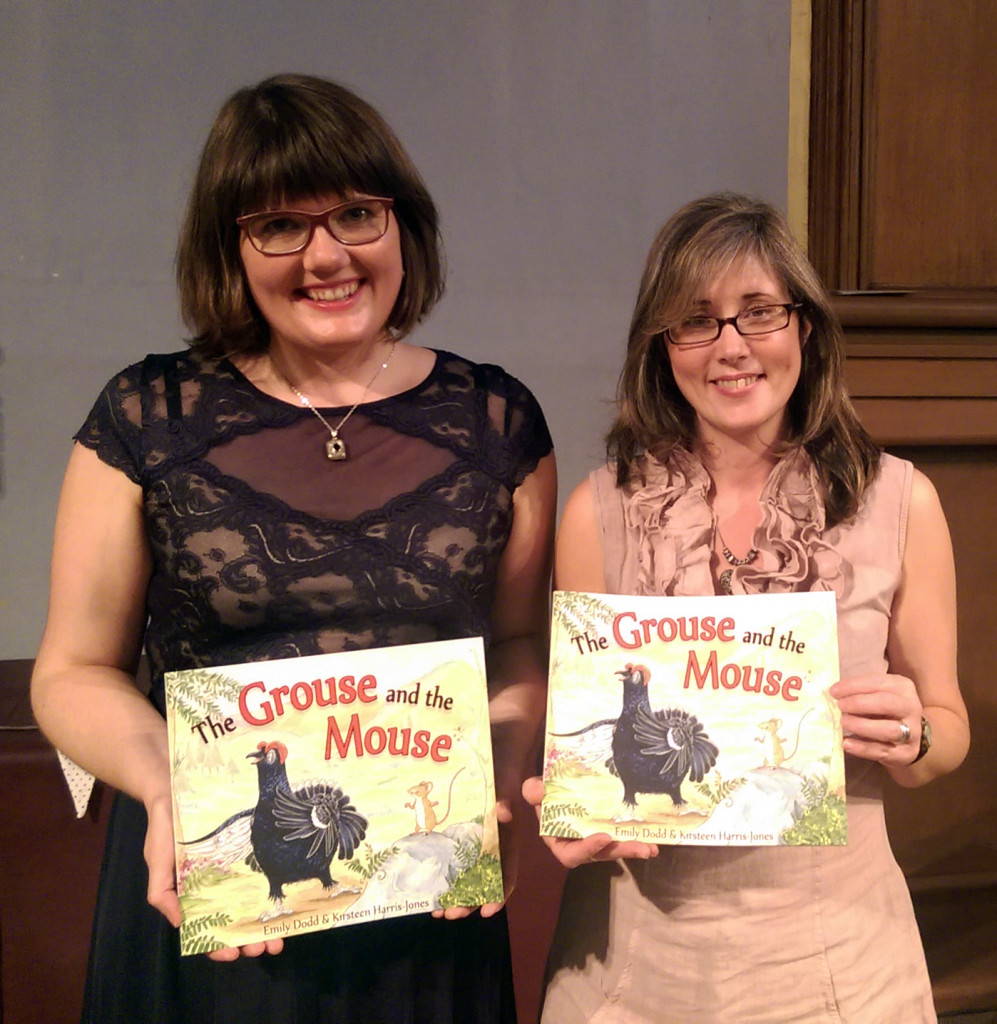 Emily and Kirsteen at The Grouse and the Mouse launch!
Hi Kirsteen, thanks for taking the time to talk with us again. No Such Thing as Nessie! is one of our favourite Picture Kelpies covers and it was great to work with you again on The Grouse and the Mouse! Can you tell us where you looked for inspiration?
Well for No Such Thing as Nessie! I picked up a few brochures from my local travel agent about Scotland to get a feel for the landscape, and googled lots and lots of images of the castle, as I wanted to get it just right. I also looked online for lots of postcards of Nessie!
No Such Thing As Nessie Moodboard
 That must have been lots of fun. I bet there were plenty of wonderful illustrations to inspire you. Now, as well as the cover, you had the whole book to illustrate ― do you have a favourite page from your Picture Kelpies books?
I love the last page of Nessie munching through her shortbread underwater!
We love it too! It makes us giggle every time, too ― it must be good shortbread! We talked a bit about how you found inspiration for No Such Thing as Nessie!, how did you go about researching for The Grouse and the Mouse?
 I did quite a bit of research on the internet for Bagpipe and Squeaker as I wanted to get it just right and as accurate to the actual animals as I could whilst retaining their character when I anthropomorphized them. I also nipped into my own garden as we had a nest of mice in our stable where I sat with a head torch trying to catch sight of them…but they moved too quickly!
You would definitely need a quick eye to spot them. With a nest of mice in your stable you had a bunch of little Squeakers. Does this mean he was your favourite out of the two characters in The Grouse and the Mouse?
 Actually, I think Bagpipe is my favourite character as we all have that one flamboyant friend who we smile at inside, as we know they are just so full of themselves, but they end up learning a valuable lesson in humility at some point.
Bagpipe showing off his fancy feathers
He's a wonderful character. Your illustrations, like the one above, really show off his big personality. When we last talked your office was overrun with paper and you were about to move into a new office, did you finally get a bigger, less paper-filled space?
I didn't! My son decided to stay at home and is using that room for an extra 12 months, before he is posted elsewhere for four years or so with the RAF…so I nearly got a room of my own!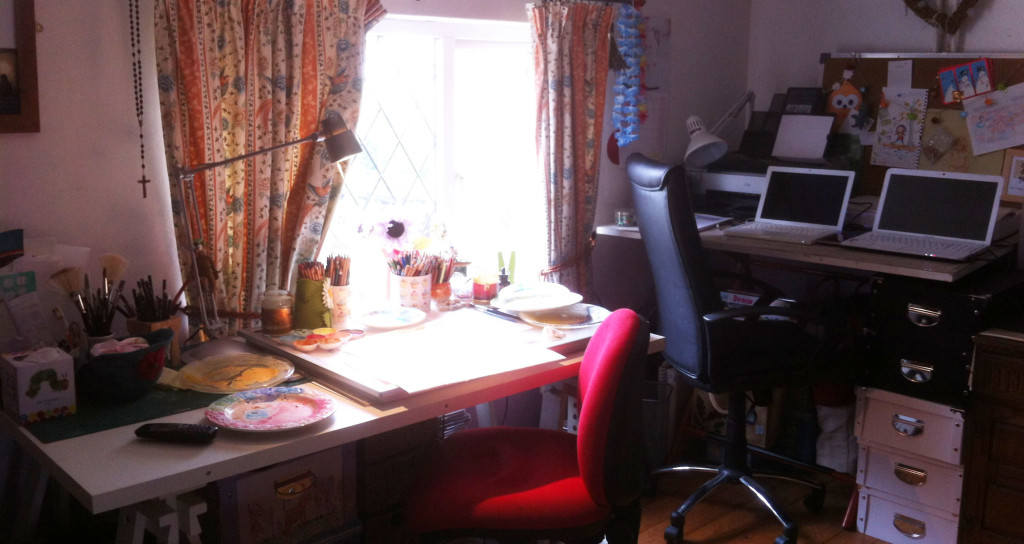 Kirsteen's office space!
Maybe next year! Paper-hazards aside, what made you decide to become a children's illustrator?
I have three children of my own and after reading the plethora of picture books out there, I thought it would be nice to put my Graphic design/illustration background to good use. I've been drawing for as long as I can remember, so it just felt like a natural progression, to draw for children.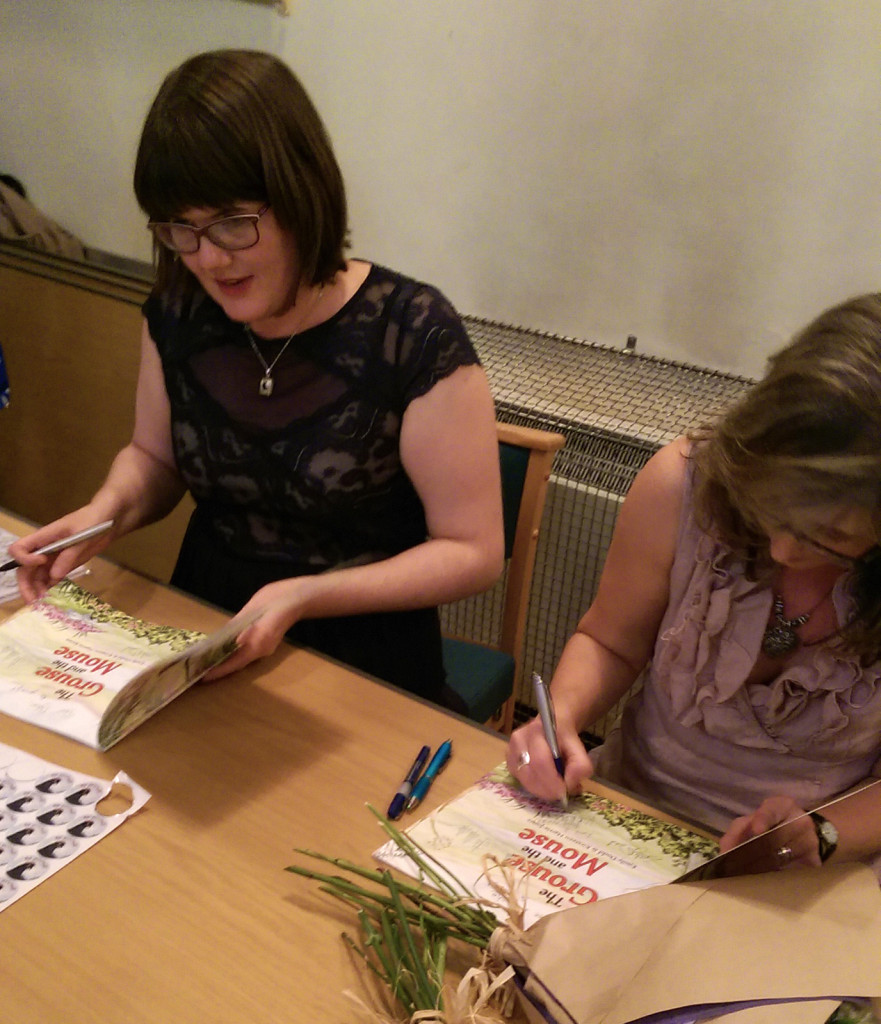 Kirsteen and Emily busy signing copies of The Grouse and the Mouse
We had a lovely time meeting one of your children at The Grouse and the Mouse book launch. We hope you and your daughter had a lovely time! When you're illustrating do you prefer to work digitally or traditionally?
I draw and paint traditionally but use Photoshop to clean and add to my work. I really prefer to work traditionally as I get a lot of satisfaction from the tactile hands-on quality it gives to a piece of work which you don't get from digital artwork.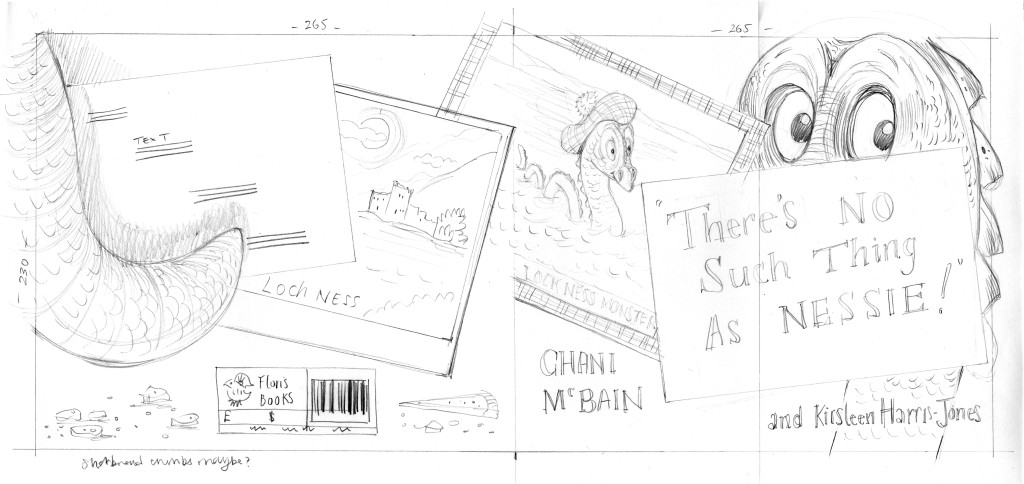 Initial Sketch of There's No Such Thing as Nessie!
Trying out watercolours!
That's really interesting, it's something quite a few of our illustrator's have said. Besides illustrating for children's books, do you have a favourite thing to draw?
I love to draw a human figure and I try to go to life drawing as much as I can, as it really is so important to practise.
That's great advice, practice makes perfect after all! Now, what do you do if you get illustrator's block on a brief?
I usually walk my dogs and try to clear my head. We have lots of lovely calming walks as we live near the Shropshire canal network, it usually does the trick!
That sounds very relaxing. And finally, who is your favourite illustrator and why?
I really love Babette Cole as she isn't afraid to tackle subjects that may appear to be taboo for children, an example being Mummy Laid an Egg all about where babies come from! She uses simple language and lots of humour to get her story across and her illustrations are so beautifully loose, colourful and full of fun.
Thanks again for speaking with us today, Kirsteen! It was great seeing you and Emily at the launch of your newest Picture Kelpie book: The Grouse and the Mouse. We've loved learning more about No Such Thing as Nessie! and The Grouse and the Mouse, and about your life as an illustrator.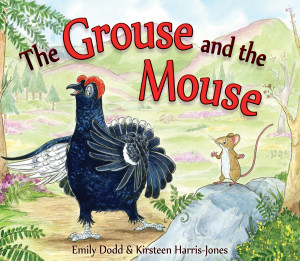 Kirsteen Harris-Jones studied at the College of Art Design and Technology, North East Wales institute in the 1980s, and then later returned in 2005. To see more of her work you can visit her Bright Agency page or follow her on Twitter.