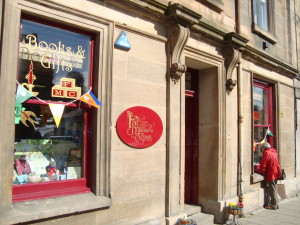 Staff at independent bookshop Far from the Madding Crowd in Linlithgow welcomed visitors on Saturday 11 April to the grand opening of their newest space, the Book Bothy.
The Book Bothy is a cosy space in the shop which will host author visits, story times and craft sessions.
Two Floris authors, Robert Harris and recent Scottish Children's Book Awards winner Alex McCall joined the celebrations with Robert reading extracts from his books The Day The World Went Loki, Thor Is Locked In My Garage! about mischievous Norse gods in St Andrews, followed by Alex's reading from hilarious poultry apocalypse adventure Attack of the Giant Robot Chickens.
The opening of The Book Bothy was made possible by a grant from author James Patterson. Patterson announced a £250,000 fund in 2014 available to independent bookshops all over the UK and Ireland. Far from the Madding Crowd was one of 73 successful applicants. Other local recipients of the grant were Bookpoint in Dunoon and Word Power Books in Edinburgh.
Storytime at the Book Bothy takes place every Saturday at 11am in Far from the Madding Crowd on Linlithgow High Street.