#FlorisDesign is back for 2015, and what a year of book production and design insights we have planned for you! First up this year is a unique look at the history of a very popular Floris craft: paper folding, or origami.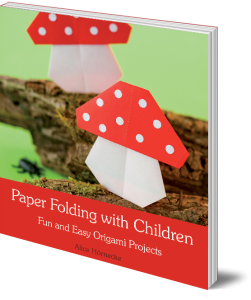 This week, we're shining the spotlight on Paper Folding with Children: Fun and Easy Origami Projects by Alice Hörnecke. It may be a new addition to our craft range, but it's certainly not the first time we've used the simple sheet of paper to create fun objects! So while Floris Design might be more used to crafting books from paper than boats, we thought that a look back at the history of this ancient craft would be a fascinating insight into the development and design of origami craft books – and a great way to get you in the mood for some paper folding projects.
Origins
Origami (or paper folding) originated in China more than 1,000 years ago and it is thought that Buddhist monks introduced the craft to Japan, the country that is regarded as its cultural home. At this point in time, all paper was handcrafted, which made it a very expensive product to buy. Because of this, paper craft was only used to create objects on important occasions, such as religious rituals and formal ceremonies. Over the centuries, paper folding has become more accessible, but it still features heavily in Japanese ceremonies and traditions today. For example, in traditional Japanese weddings, decorative origami butterflies are crafted to represent the bride and groom.
One Thousand Cranes
One of the most famous origami designs is the crane, a bird that is thought by the Japanese to bring good luck as it is believed that they live for one thousand years. Legends say that whosoever folds one thousand of these paper birds will have their greatest wish granted by a crane. A string of one thousand origami cranes is traditionally given as a gift to a new baby to wish them a long and prosperous life.
Paper Folding in Europe
Paper folding is now popular all over the world, as it's a fun and easy activity for beginners and craft experts alike. Because of this, it's an especially popular craft for children. Did you know that as early as the 1800s, paper folding was included in the educational curriculum of Germany's kindergarten movement?
Adults love the craft too, and some take it to extremes! There are dozens of origami entries in the Guinness Book of World Records including smallest crane (measuring just 0.1mm x 0.1mm!), biggest crane (with a wingspan of over 260ft!), fastest time for folding 100 cranes, and many more.
Inspired by this little piece of design history? If you want to break some crafty world records but don't know where to start, then pick up Paper Folding with Children – it's the perfect place to start!
Click on the cover for more info on Paper Folding with Children and to use our exciting See Inside feature. And keep an eye on the Floris blog this month for more Paper Folding fun, including how-to videos and a brand new paper folding tutorial!