The clocks have turned forward, the daffodils are blooming, and spring is definitely in the air. Here at Floris, thoughts have turned to spring… and spring cleaning. Which is why new book Why Cleaning Has Meaning, by cleaning professional Linda Thomas, proved to be very popular when it arrived!
Linda is a great believer that cleaning can have a profound effect on our own wellbeing and personal development. So true to her word that if we raise our understanding of cleaning, we might even begin to enjoy it, Linda has shared her favourite tips for spring cleaning. Dusters at the ready…
1. Learn to care as you clean

Linda says: There is a great difference between cleaning and caring. When we clean, we remove dirt, and the result of cleaning sometimes does not even last five minutes. You have barely cleaned the hallway when someone walks over it leaving footmarks everywhere. For this very reason, many people consider cleaning a frustrating and unrewarding activity, a troublesome necessity. Yet if we try to do this task with our full awareness and devotion, and consciously try to penetrate each little corner with our fingertips, then cleaning takes on a nurturing aspect and becomes caring. The whole atmosphere changes, as if the room is filled with light.
2. Start with the room that bothers you most
Linda says: Before actually starting with cleaning or tidying up, just stand in the doorway and look at the room you want to tackle. Perceive it as one whole and then ask yourself, what is bothering you most in this room? Often it is what we kept put off doing for whatever reason. Begin with the most bothersome task. Sometimes it seems as if this thing has taken on a life of its own, and that is why you don't want to look at it anymore. Once you have started at this point, blocked up energy is released. Once you have tackled this very difficult corner, you seem to find the strength to continue.
3. Try using environmentally-friendly cleaning agents
Linda says: In general, people have become more environmentally conscious. Yet there is still a lack of commitment regarding ecological or organic cleaning agents. Many still believe that environmentally-friendly cleaning products are more expensive and less effective, but this is no longer the case. Citric acids and vinegar are good for using in bathrooms, showers, toilets, basins, kitchen sinks, as well as on glass, porcelain, and vases. For general cleaning, spray and then wipe with good fibre cloth; no rinsing needed. Alkaline crystal soda (also called washing soda or soda crystals) and bicarbonate of soda (baking soda) are great for removing grease from kitchen tiles, ovens and aeration vents, and a good for stain removal. These alkaline agents are excellent for thorough cleaning, but be careful to check first when using on painted surfaces as it may bleach.
And a bonus practical tip: Buff out troublesome furniture scratches
Linda says: Scratches on wood can be partially removed with a cork dipped in a vinegar-oil mixture. Try rubbing scratches in a circular motion, repeating the process several times.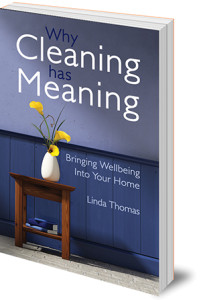 Linda Thomas is an expert, professional cleaner who ran her own ecological cleaning company for over twenty years. In Why Cleaning Has Meaning, she explores her passion for cleaning, and argues that cleaning can have a profound effect not just on the spaces we care for, but on our own wellbeing and personal development. This lively and readable book is full of anecdotes, practical examples and ecological cleaning tips from Linda's decades of cleaning experience. Ultimately she argues that if we raise our understanding of cleaning, we might even begin to enjoy it!