When Wine Tastes Best: A Biodynamic Calendar for Wine Drinkers
2020
Availability:

Out of print
Quick Look
Prefer to get When Wine Tastes Best digitally? Download the When Wine Tastes Best app for iPhone and iPad or When Wine Tastes Best app for Android. Click on the Media tab for more information.
Discover the best days to uncork your favourite bottle
As used by wine experts and leading retailers
Based on the authoritative and bestselling Maria Thun Biodynamic Calendar
Shows the optimum days for drinking wine, and which days to avoid, in 2020. A pocket-sized calendar based on the belief, widely held by wine experts, that the moon can affect how wine tastes.
Description
When you buy a bottle of wine to enjoy at home, wouldn't you like to know when it's going to be at its best?

Based on the unmatched Maria Thun Biodynamic Calendar, this handy little pocket guide tells you which days are optimum wine-drinking days, and which days to avoid if you want to get the most out of your glass. At least two major supermarket chains only do their wine tastings on the best days as indicated by this calendar!

Includes a bonus month, December 2019, to cover the Christmas season.
Table of Contents
When to Drink Wine – an Introduction to the Theory
by Hilary Wright

How to Use this Guide and Why it Works

Month-by-month Calendar

Is Wine Bad for the Environment?
by Britt and Per Karlsson
Reviews
'A number of heavyweights in the wine industry agree with her - supermarkets Tesco and Marks & Spencer only hold tastings on the days which her calendar says are favourable.'
-- Jamie Irving, Greatgrapes Blogspot

'Anyone saving those extra-special bottles for Christmas and the New Year might want to consult a new biodynamic tasting calendar -- and hold off on the corkscrew.'
-- Richard Woodward, Decanter.com

'This is a great little introduction and handy reference -- a perfect stocking filler. . . We will certainly be keeping a copy at the shop!'
-- David Weale, Buon Vino, winner of the organic/biodynamic specialist wine retailer of the year Decanter award 2017

'Whatever you think about biodynamic viticulture, it might be a fun experiment.'
-- Julia Harding, Jancisrobinson.com

'David Motion, owner of The Winery in London's Maida Vale is now a convert and stocks a range of biodynamic vintages. "A root day won't make a good wine taste bad, but on a fruit day the wine is amost leaping out the bottle and singing ta-dah!"'
-- Jessica Fellows, Telegraph.co.uk

'This pocket-sized guide to the best days for drinking wine will be of great interest to those who enjoy the subtleties of a glass of wine... No avid wine drinker would want to be without this guide and with Christmas not so far away, and at such a modest price, When Wine Tastes Best would make an excellent 'stocking filler' for any friends and relatives who you know enjoy a glass of wine.'
-- New View

'A gift for the wine lover in your life… It'll be a talking point for your next Christmas party!'
-- Lovefood.com
Author
Matthias Thun (1948-2020) was an international expert on
biodynamics. He had a
Masters in Beekeeping and lectured at biodynamic conferences
and training seminars internationally. He worked with his mother, biodynamic pioneer Maria Thun, on the annual creation of the
seminal Maria Thun Biodynamic Calendar, until her death in 2012
after which he continued it independently. Matthias lived at his
family's biodynamic homestead in Dexbach, Germany, until his death.
Media
An interactive app is also available, called 'When Wine Tastes Best', for iOS devices such as iPhones and iPads, and Android devices. Download it for free from the Apple App Store or Google Play. Today's data is free, and you can buy the data for the rest of the year.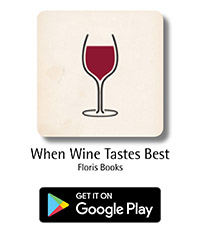 Other Floris Books you might enjoy:
Know what you're looking for?