Henri Bortoft
Henri Bortoft (1938-2012) was a physicist with an interest in the history of science and continental philosophy.
>> More information about books by Henri Bortoft.
Peter Henri Bortoft
(1938 - December 29, 2012)
Henri studied as a physicist at the University of Hull and carried out postgraduate work on quantum theory with David Bohm at Birkbeck College in London. Under Bohm's influence, and later working with John G. Bennett, a follower of G.I. Gurdjieff, Henri became engaged in a philosophy of science which sought an underlying wholeness and interdependence in nature, including thought, language and perception.
These researches brought him to the scientific work of Johann Wolfgang von Goethe, whom he saw as representing an alternative stream of science based on unity and coherence rather than separation and categorisation. He published The Wholeness of Nature, his first major study of Goethe, in 1996 with Floris Books (Lindisfarne Press in the US). He went on to collaborate with Brian Goodwin in helping to set up the groundbreaking MSc course in Holistic Science at Schumacher College in 1998, where he contributed to the programme every year right up to the autumn of 2012, in spite of his then deteriorating health.
Work on his final book was already progressing, over a period of some ten years, and this finally saw the light as Taking Appearance Seriously: The Dynamic Way of Seeing in Goethe and European Thought (Floris Books, October 2012). To his great relief and delight, Henri saw the book finished and published before further illness hospitalised him for three weeks in December. He was able to return home to spend Christmas with his family, but then passed away peacefully on December 29.
Henri Bortoft will be remembered as much for the inspirational style of his teaching as for his remarkable and hugely important writings. His very presence and words transmitted the scope and lucidity of his vision, delivered with profundity and humour, and he will be mourned and missed by colleagues and students alike.
C J Moore of Floris Books, January 10, 2013
Books by Henri Bortoft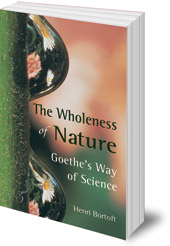 Examines the phenomenological and cultural roots of Goethe's approach to science, and argues that Goethe's insights represent the foundation for a future science of nature.
A renowned thinker explores a way of seeing that draws attention back from what is experienced, into the act of experiencing.