Duncan Williamson Biography
Duncan Williamson was a Scottish Traveller, singer and 'one of the world's best-known storytellers' (The Times). Duncan Williamson spent six decades of his life travelling around Scotland, collecting stories as he went. In The Coming of the Unicorn many of Duncan Williamson's best-loved Scottish folk stories, alongside previously unpublished ones, are brought together in a beautiful collection.
Duncan Williamson 1929-2007: Biography
Duncan Williamson's Childhood
Duncan Williamson was born in Argyll, near Inverary, on the shores of Loch Fyne, in 1928, in a large domed tent known as a 'barrikit'. The seventh of sixteen children, Duncan Williamson grew up in a large Scottish Travelling family where stories were told on cold nights around the fire. Duncan said about his childhood: 'My mother could not read, neither could my father. So, they told us these stories that were passed down from tradition which they had learned as children themselves.'
Duncan Williamson's father used to tell him and his siblings old stories, which could be very long. Sometimes his father would tell such a long story that the storytelling would last several nights. Duncan Williamson remembers how the storytelling encouraged the children to do chores: 'He wouldn't tell us it all at once! But we had to work for it – we had to get sticks for the fire, get water, run messages and do everything before we got a bit o' our story!'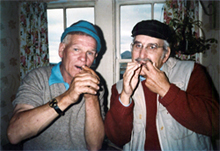 Although neither of his parents could read or write, Duncan Williamson's father wanted his children to get an education, so Duncan was sent to the school in Furnace, Argyll. However, life was tough for Duncan as a child. His family were so poor that he often went hungry and at school he would sometimes excuse himself from classes, so that he could catch shellfish and cook them on a small fire on the shores of the loch.
At fifteen Duncan Williamson left home with his older brother and began travelling around Scotland, berry picking and working as a farm labourer, at times meeting up with the rest of the Travelling community to tell stories and sing songs.
Duncan Williamson's Travels
As an adult, Duncan Williamson continued to travel around Scotland, finding work where he could. Mostly he worked as a farm labourer and a horse dealer, travelling around intermittently, by foot, horse and cart and eventually by van. All the while Duncan Williamson continued to collect stories from people he met on his travels – farmers, crofters as well as other Traveller people.
Duncan Williamson's International Recognition
In 1967 Duncan Williamson met the leftwing poet Helen Fullerton, who had previously made recordings of Duncan's sisters and mother. Helen Fullerton put Duncan in touch with Geordie MacIntyre, a Glaswegian singer, who recorded Duncan's singing. This led to Duncan Williamson performing live at the Blairgowrie Folk Festival in Perthshire, in 1968, gaining recognition from a wide Scottish audience. These live performances, as well as the publication of his stories by his second wife Linda Williamson, raised Duncan Williamson's profile as a Scottish storyteller.
Duncan Williamson's Marriages and Family Life
In 1949 Duncan Williamson married Jeannie Townsley, a distant cousin, and together they had seven children. However, Jeannie died in 1971 and Duncan took up employment with a scrap metal merchant in Fife.
In 1976 Duncan Williamson met Linda Headlee, a research student from America, who was studying in Edinburgh. The couple married in 1977 and spent four years living together in a gelly, a traveller tent, with their two children, before moving to a cottage in Fife.
Linda Williamson made many recordings of Duncan Williamson telling his stories and wrote several collections of Scottish folktales, based on these recordings. These books, as well as live performances, took Duncan's Scottish folktales to an international audience and brought attention to the Scottish storytelling tradition.
Duncan Williamson died of a stroke on the 8th November, 2007. He is survived by his ten children and his wife Linda Williamson, who still tours Scottish storytelling centres, keeping Duncan Williamson's legacy alive.
Duncan Williamson and the Importance of Storytelling
Duncan Williamson came from a family of Scottish Travellers, who told traditional stories around the campfire for entertainment. Duncan Williamson believed that stories have an important role in education and growing up. Duncan Williamson said that, as a child, he learned how to behave through his family's stories. Duncan Williamson said that 'My father's knowledge told us how to live in this world as natural human beings – not to be greedy, not to be foolish, not to be daft or selfish – by stories.' As Duncan Williamson's family were very poor, they not only relished hearing stories but relied on them for framing an understanding of the world. Duncan Williamson said that 'by listening, by learning and listening to the old people, you had a better knowledge of the world you had to live in'.
As well as the role of storytelling in his upbringing, Duncan Williamson was a firm believer in the power of stories as things which transcend time and remain with a person for life. 'Stories are something you carry with you, something to last for your entire life to be passed on to your children, and their children for ever more. Telling a child a story implants a seed in their mind, and you know when you are gone from this world that that child is going to tell the tale you told them, and remember you.'
Duncan Williamson's Legacy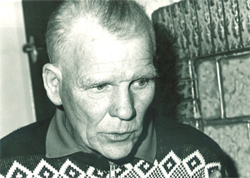 When Duncan Williamson died in 2007 he left behind a worldwide legacy of stories collected on his travels, not only from his own community but from people from all walks of life. Duncan Williamson was not just a story collector, his way of telling a story and his understanding of storytelling culture and craft has been celebrated through numerous publications of his work and by those who remember him. Scottish folklorist Hamish Henderson, in his introduction to Duncan and Linda Williamson's A Thorn in the King's Foot: Folktales of the Scottish Travelling People (Penguin Books, 1987), described Duncan Williamson as 'possibly the most extraordinary tradition-bearer of the whole Traveller tribe'.
Duncan Williamson's Books
The Coming of the Unicorn is a wonderful collection of Duncan Williamson's traditional Scottish stories for children, collected during his sixty years of travelling all over Scotland and features traditional Scottish mythical creatures such as broonies, unicorns, ogres as well as stories about kings, warriors and storytelling animals. The Coming of the Unicorn is the first posthumous collection of Duncan Williamson's stories published and is the first collection compiled specifically with children in mind. Linda Williamson, Duncan Williamson's wife, edited the collection.
More Information and See Inside
In this collection, Duncan passes on some wonderful children's folk and fairy tales, collected from sixty years of travelling around Scotland. This collection includes stories about silver horses and golden birds, cunning lions and trilling nightingales, brave princesses and magic scarecrows, the four seasons and old Father Time. At the heart of each story is a lesson about life and what it means to be a good person. The stories have been written down as faithfully as possible to Duncan's unique storytelling voice, full of colour, humour and life.
More Information and See Inside
Other Publications
Fireside Tales of the Traveller Children (1983)
The Broonie, Silkies and Fairies (1985)
Tell Me a Story for Christmas (1987)
A Thorn in the King's Foot: Folktales of the Scottish Travelling People (1987) (with Linda Williamson)
May the Devil Walk Behind Ye! (1989)
Don't Look Back, Jack!: Scottish Travellers' Tales (1990)
The Genie and the Fisherman (1991)
Tales of the Seal People (1992)
The Horsieman: Memories of a Traveller 1928-1958 (1994)
Rabbit's Tail (1996)
The King and the Lamp (2000)
The Land of the Seal People (2010) (Expanded edition of Tales of the Seal People, edited by Linda Williamson)
Jack and the Devil's Purse (2011) (Expanded edition of May the Devil Walk Behind Ye! (edited by Linda Williamson)
Books about Duncan Williamson
A Traveller in Two Worlds: Volume 1: The early life of Scotland's Wandering Bard (2011)
A Traveller in Two Worlds, Vol. 2: The Tinker and the Student (2012)