Gerda Muller's detailed but beautiful garden illustrations are a masterclass in combining art and education. In How Does My Fruit Grow?, Muller delightfully depicts a variety of fruit plants and trees, and gives young gardener Sophie some useful lessons along the way.
Sophie wasn't the only one to learn something in these fact-filled pages. So, here are five surprising things we learned from Muller's most recent garden delight.
1 Peanuts are a fruit
… and so are hazelnuts, chestnuts and cashews! Most nuts as we know them grow inside a fleshy fruit case, and we eat the seed part. And, like all other fruits, they need a bee to pollinate their flower before they can grow. You might recognise these distinctive flowers, that grow on the horse chestnut tree.
2 Strawberries are a 'false fruit'
Fruit is defined as "the sweet and fleshy product of a tree or other plant that contains seed and can be eaten as food" (Oxford Dictionaries). Rather than inside the fruit – like most other varieties – the strawberry's seeds are outside.
3 There are around 7,500 varieties of apples
From the favourites Granny Smith and Braeburn to the lesser-known Canadian Reinette – there are lots of types of apple. There are so many that scientists have stopped giving them Latin names! What's your favourite type of apple?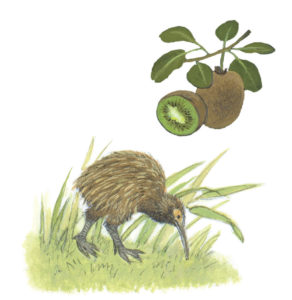 4 The bird came before the fruit
Although they were originally named Chinese gooseberries, traders from New Zealand rechristened the 'kiwi' fruit. The traders noticed the similarity between the flightless kiwi bird's feathers and the fluffy texture and brown-green skin of the fruit.
5 Clementines have a surprising story
They were first grown by a monk – Brother Clement to be exact. This inventive monk combined mandarin and sweet orange plants to create the tasty, pipless fruit we know as clementines.
---
More about How Does My Fruit Grow?
Sophie loves visiting her aunt and uncle in the countryside and learning all about the fruits that grow in their garden. She even discovers how a tall cherry tree grows from a small seed, and how bees help blossoms become fruit.
Gerda Muller's How Does My Fruit Grow? is full of beautiful illustrations and and fascinating details. The simple story is perfect for inspiring interest in the wonderful diversity of the world around us.
Keen young gardeners can find out even more in companion book How Does My Garden Grow? and A Year in Our New Garden.