Today we are celebrating our one year anniversary in our lovely new office in Edinburgh. We love it! – but what are the best things about our new home?
The views
We look out over the city of Edinburgh with stunning views on all sides, from Corstorphine Hill right across to the Pentland Hills. On sunny days (when we have time to lift our heads) there's plenty of blue sky thinking, and we've seen some spectacular sunsets!
The space
The open plan space makes for a much livelier and more collaborative atmosphere than our old office, which was best described as "cosy". Our expanding team (fifteen and counting) definitely needs it!
The Awards
It's been quite a year for Floris overall: The Nowhere Emporium won the Scottish Children's Book Award and the Blue Peter Book Award for Best Story and last week we won Saltire Society Publisher of the Year.  Leah, our Design & Production Manager, won Emerging Publisher as well.
The bunting
We had a very big birthday this year, and the office is still decorated with cheerful bunting that we haven't yet had the heart to take down!
The giant poster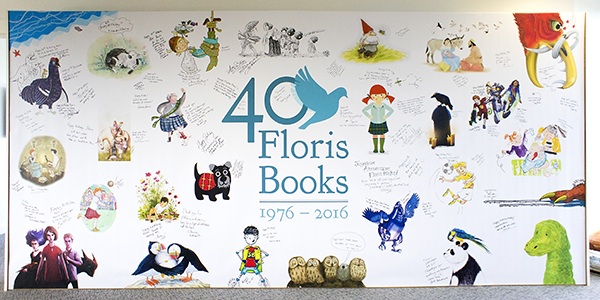 At our 40th birthday party our guests – including authors, illustrators, staff and friends of Floris – signed our lovely giant poster. Not only is it covered with beautiful artwork from some of our best-loved books, it also reminds us of how many people come together to create great books. It now has pride of place in our meeting room.
The tea cupboard
It will come as no surprise that tea is a key ingredient in the smooth running of the Floris office. We have a veritable tea emporium from Darjeeling and Ceylon, to Peppermint and Liquorice.
---
As we come to the end of our hugely successful 40th year, we're already well underway with plans for the next one. Check out our catalogues for a taster of what's ahead, and watch this space for all the latest Floris news!
Save
Save
Save