We are absolutely delighted to announce that Kelpies author Alex McCall was named as one of the winners at the Scottish Children's Book Awards 2015 today, during a special ceremony at Edinburgh's Assembly Rooms attended by 600 young people from all over Scotland. Alex won the Younger Readers (8-11 years) category with his egg-cellent Kelpies novel Attack of the Giant Robot Chickens.
The Awards are run by Scottish Book Trust and voted for by schoolchildren all across Scotland, with over 28,000 votes cast and over 1,500 Scottish schools registering to take part. We were thrilled to have three Kelpies shortlisted for the awards – Pyrate's Boy by E.B Colin, also shortlisted in the Younger Readers category, and Dark Spell by Gill Arbuthnott, shortlisted in the Older Readers (12-16 years) category.
Alex McCall, one of Scotland's youngest published authors, was also up against fellow category shortlisted author, and his namesake, Alexander McCall-Smith for the coveted award.
Alex said: "Being able to go into a school and meet the children that you are writing for is fantastic enough as it is. Knowing that those kids have voted for you makes it even better. It is just hard to believe that I've been lucky enough to actually win."
Packed to the roosters (roosters, chickens, get it?!) with adventure, excitement and giggle-inducing chicken puns, Attack of the Giant Robot Chickens was inspired by growing up in Aberdeenshire (Aberdeen in the location of this particular a-cluck-aplypse) and an encounter at a certain fast food chain. Written in just 6 months, Attack of the Giant Robot Chickens was Alex's first book and also won the Kelpies Prize in 2013.
But don't put the hens to bed just yet. Alex will be back with a new book this summer, Revenge of the Giant Robot Chickens!
We are thrilled for Alex and incredibly proud of all three of our shortlisted authors. A hearty congratulations Alex, and well done Beatrice and Gill!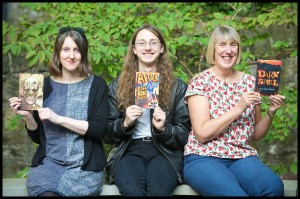 About Attack of the Giant Robot Chickens, Winner of the Scottish Children's Book Awards 2015 Younger Readers Category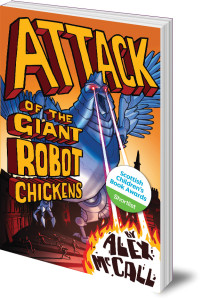 Why did the chicken cross the road?
TO TAKE OVER THE WORLD!!!
The city of Aberdeen is being terrorised by giant robot chickens who want to peck out every last sign of human resistance. The streets are empty, the adults have vanished — and those left behind are fighting for survival.
Jesse and his friends are desperate to save their families and stop the feathered fiends. They hatch a master plan…  but can a gang of kids REALLY defeat an army of angry robot chickens?