Once upon a time, in a kingdom far far away, three talented young illustrators were paired up with three award winning Scottish authors and storytellers to create Picture Kelpies' Traditional Scottish Tales. People traveled from miles around to visit their local bookshops and marvel at the wondrous books that had been created. Some even parted with their hard-earned gold so that they could take home the beautiful trio.
One day, Leah, the glamorous and talented Design Manager at Floris Books said, "These books are so beautifully illustrated, we should have an exhibition of the artwork!"
Everyone at Floris Books agreed that this was indeed a splendid idea. And so, they set out on a perilous journey to the Scottish Storytelling Centre, which was the perfect place to hold the exhibition. Luckily, the good people at the Scottish Storytelling Centre agreed that an exhibition was a brilliant idea and so everyone scurried around busily making preparations.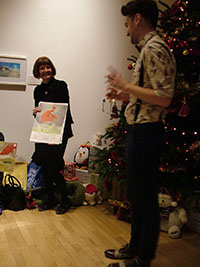 The day came for the launch of the exhibition, for which a great party had been planned. First to arrive were Theresa Breslin and Matthew Land, author and illustrator of The Dragon Stoorworm. Together, their words and pictures tell the story of the very first, very worst dragon that ever existed, and how brave Assipattle (who looks a little like his illustrator…) and the Princess Gemdelovely set out to defeat the Stoorworm and free Scotland from its wrath.
Next to arrive were Lari Don and Philip Longson. The Tale of Tam Linn, a traditional folk tale from the Scottish Borders, has always been Lari's favourite fairy tale, and Philip's dark, magical illustrations really bring the story to life.
Finally, Janis Mackay arrived. Her book, The Selkie Girl, was illustrated by a lovely young lady named Ruchi Mhasane, but, since she was from the mysterious faraway land of India, she wasn't able to come to the launch night party. But she was there in spirit, as her stunning watercolour illustrations for Janis' tale of a selkie — half human, half seal — who had lost her seal skin adorned the walls of the Scottish Storytelling Centre, along with the others' artwork.
The launch party was a splendid occasion. People had come from all around, through storms and snow, in order to be there, and they all had a lovely time drinking wine, eating mince pies, and admiring the beautiful artwork from the Traditional Scottish Tales.
As the night drew on, the happy people drifted away towards home, clutching their newly purchased books and prints to their chests and smiling.
And they all lived happily ever after.
Dragons, Selkies and Fairy Princes, an exhibition of artwork from Picture Kelpies' Traditional Scottish Tales, will be open until 24th January 2015 at the Scottish Storytelling Centre in Edinburgh. Books, prints and original artwork are all for sale.