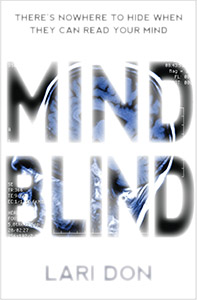 It's always exciting to see the nominations for the CILIP Carnegie Medal are announced. But yesterday's announcement was a particularly exciting one for us because one of our KelpiesTeen novels — Mind Blind by Lari Don — has been nominated!
A mind-bending thriller for young teens, Mind Blind follows 14-year-old Ciaran Bain — a criminal with a special talent: he can read minds.  But his skill comes at a price. He must team up with Lucy, whose sister has been murdered by Ciaran's family, in order to uncover a deadly secret in a journey that takes the unlikely duo from London to Edinburgh.
The award winning author of the Fabled Beast Chronicles, Lari Don skilfully weaves a fast-paced world of secrets, power and supernatural abilities in her first book for young teens.
The prize is awarded by the Chartered Institute of Library and Information Professionals (CILIP), which means that the people doing the judging are actual children's librarians who see children reading and enjoying books every day.
The next stage — the longlist — will be announced in February, so until then we at Floris HQ all have our fingers crossed for Lari and Mind Blind!