Looking for a little Christmas inspiration? Here at Floris we've obsessed with all things Scandinavian at this time of year – decorations, gifts and festive stories – so we'd like to share one of our favourite Christmas crafts from A Swedish Christmas.
These beautiful Swedish snowflake ornaments, which are made out of icing (yes, really!), are simple to make and will look stunning on any Christmas tree.
Materials (makes 10)
Egg white
A few drops of vinegar
250-300g icing sugar
Castor sugar
Ribbon
Greaseproof paper or piping bag
1. Mix the egg white, vinegar and icing sugar together with a spoon. The icing should not be too runny or too thick.
2. Make a cornet out of greaseproof paper and secure with a pin so that it doesn't unravel. Fill the cornet with icing and cut of the tip. (Or if you have one, you can use a piping bag.)
3. Sprinkle an even layer of castor sugar onto a baking tray. Pipe the icing in the shape of a star onto the castor sugar. Leave to dry for a day.
4. The ornaments are very fragile so be careful when attaching the ribbon and hanging them up!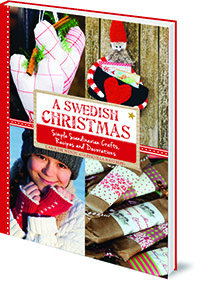 A Swedish Christmas is packed with Scandinavian inspiration to make your festive season special; from knitted baubles and gingerbread place settings to homemade advent calendars and Jack Frost fruit. Order your copy today and get crafting!
If you like crafting at Christmas time, why not check out our festive Pinterest board.
You might also like some of our other crafty Christmas books, like Crafts Through the Year and Magic Wool Fairies.